GARDEN HERBS Salad Dressing
GARDEN HERBS Salad Dressing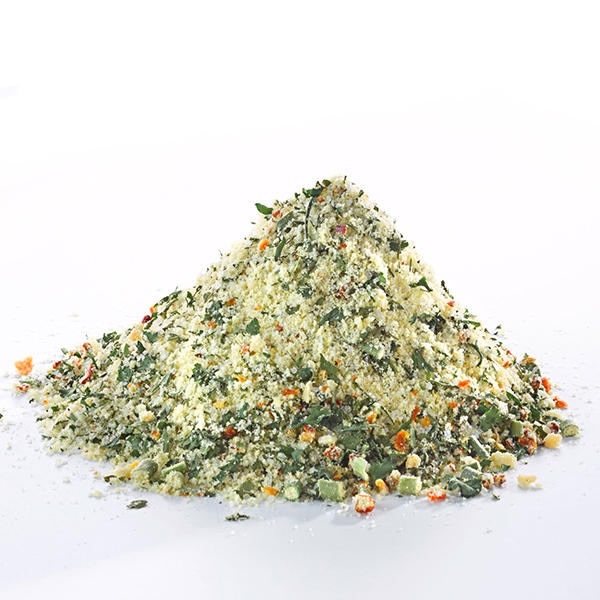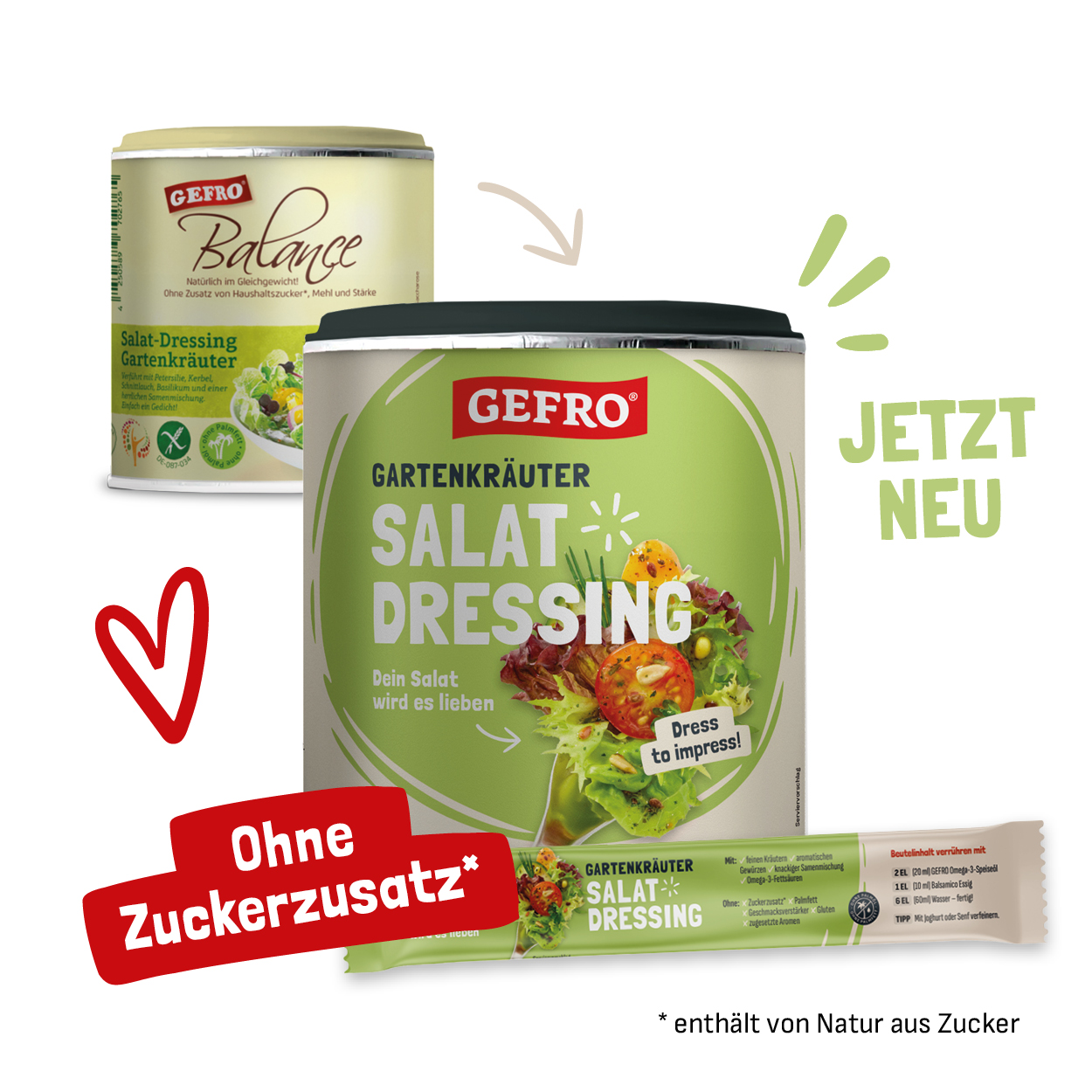 Please choose Quantity and Size
How nice it is to have your own herb garden on a balcony or behind the house. For everyone out there who's not so lucky however, we bring a fresh herbal dressing right into your kitchen. And because we have given you our promise to keep things balanced, we don't just use the best that Mother Nature has to offer in terms of herbs, we also keep things consistently optimised for the metabolic process by using beneficial isomaltulose. Which is good news for you! Simply mix GARDEN HERBS Salad Dressing with oil and water, savour your fresh, crisp salad and enjoy, knowing you're staying balanced.
It's healthy, easy and yum!
Available in a 270 g jar or in a set of ten conveniently portioned sachets for when on-the-go.
All GEFRO Balance products strictly forgo the use of normal crystal sugar (so called sucrose), flour and starch. Isomaltulose, which we use instead of crystal sugar, enters the bloodstream noticeably slower than sugar. The blood sugar level rises less harshly and also falls less severely than after consuming normal sugary foods. Thus, metabolism runs noticeably more balanced. The body can use the available energy for longer, concentration improves and the typical fatigue signs of the "lunchtime lull" generally disappear. Find out more…
Naturally in Balance!
Without added crystal sugar, flour and starch.
DE-087-034
Guaranteed quality
In addition to the isomaltulose effect, you also enjoy GEFRO Balance's high quality:
with particularly high-quality fibre
without flavour-enhancing additives
without colours or preservatives
Preparation
Mix 1 tablespoon (approx. 12 g) or a single-serving sachet with two tablespoons (approx. 30 ml) of GEFROs Omega-3 Cooking Oil and four tablespoons (approx. 60 ml) of water, pour on the salad and enjoy!
Nutritional values
Ø Nutritional value
| | per 100 ml (= 1 portion) | per 100 g powder |
| --- | --- | --- |
| Energy | 1195 kJ/ 290 kcal | 1482 kJ / 355 kcal |
| Fat | 29.5 g | 16.6 g |
| of which saturates | 2.2 g | 1.5 g |
| Carbohydrate | 3.1 g | 25.8 g |
| of which sugars** | 2.2 g | 18.5 g |
| Dietary fibre | 1.6 g | 13.6 g |
| Protein | 1.7 g | 14.4 g |
| Salt | 2.2 g | 18.4 g |
| Vitamin C | 27.2 mg (34%*) | 226 mg (283%*) |
| Vitamin E | 7.77 mg (65%*) | |
| Omega-3 fatty acids*** | 3.3 g | 2.2 g |
* Percentage of recommended daily reference intake for an adult
** of which isomaltulose 1,3 g / 10.6 g
*** when prepared with GEFROs Omega-3 Cooking Oil
Ingredients
30% seed mix (sunflower seeds, flax seeds, hemp seeds, chia seeds (= Salvia Hispanica), pine nuts, gold flaxseed, flaxseed powder), sea salt, 12% vegetables (onions, carrots, sweet peppers), isomaltulose*, yeast extract, acidifier (sodium diacetate, citric acid), 6% herbs (parsley, chervil, chives, basil), 6% dietary fibre (pea fibre, inulin (from chicory)), moringa leaf powder, acerola juice powder, mustard flour, anti-caking agent: silicic acid, spices, sunflower oil.
* Isomaltulose is a source of glucose/fructose.
Allergenic substances: mustard and mustard products
Hotline
+49 8331 9595 555
You can reach us from:
Mo. - Fr.: 8.00 - 18.00
Sa.: 9.00 - 12.00