Please select size and quantity:
*Inclusive VAT, excluding delivery costs (for orders under €49.90). In stock, approx. 5 - 8 working days delivery time Shipping.

DE-087-115

GEFRO Vegetable Bouillon PURE
Only natural ingredients are used in our new vegetable stock, giving it an incomparable and authentic flavour. GEFRO's Vegetable Bouillon PURE tastes as natural as homemade and contains everything a complete vegetable bouillon needs: leek, onions, carrots, asparagus, fennel, parsley and harmoniously balanced herbs and spices.
This pure broth is not only a great basis for sauces, it is also great for soups and accentuates the soup's other individual ingredients.
GEFRO Vegetable Bouillon PURE is also a great seasoning for rice, meat, vegetable and pasta dishes.
Preparation
Add 20 g per litre of water, stir and enjoy!
Tip: adding fresh parsley, chives, basil, wild garlic or cress is an easy and delicious way to vary soups.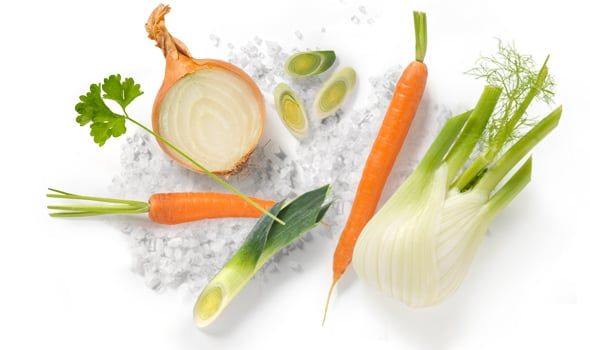 No colouring and
preservatives
Finest flavour – purest nature
When creating GEFRO's Vegetable Bouillon PURE, we consciously chose only natural ingredients. A high amount of vegetables, finest sea salt and flavoursome herbs and spices are the basis of this completely natural vegetable stock, with its wonderful, natural aroma.
The ingredients used are from conventional agriculture and contain naturally occurring sugars – the bouillon contains no added sugar nor does it contain any ingredients that aren't found in nature!
Natural and healthy eating - a basic need for everyone
We all want to eat healthily to stay physically and mentally fit for as long as possible. The desire for a healthy diet is gaining in importance, now more than ever.
With GEFRO's Vegetable Bouillon PURE, we have created a healthy, natural food without any additives that tastes great and is also easy to use and extremely versatile in the kitchen.
Pure joy
That first spoon of soup made with GEFRO's Vegetable Bouillon PURE brings us back to our childhood, where we eagerly watched our mothers chopping and stirring, seemingly magically transforming those raw ingredients in a large pot into a wonderfully scented soup, whose aroma filled the house and was either greedily gobbled up immediately or used as the basis for so many other soups. Simply by adding chicken, beef, potatoes, or whatever was at hand… pure joy!
Whatever soup you create, with GEFRO Vegetable Bouillon PURE you'll always be ready for your very own moment of pure joy.