Please select size and quantity:
*Inclusive VAT, excluding delivery costs (for orders under €49.90). In stock, approx. 5 - 8 working days delivery time Shipping.

Master of cold dishes
GEFRO Safflower Oil is the star of cold dishes. Its typically fine flavour is the perfect addition to fresh salads and raw food dishes. Thanks to a robust note, it enriches all vegetable and rice dishes, potato salads, dressings, dips and cheese curd dishes.
Thanks to its high content of poly-unsaturated fatty acids, this high-quality, easily digestible oil is the perfect choice for everyone who wants to season their salads in a way that is cholesterol-conscious and linoleic acid-rich. Its strong flavour enriches all veg and rice dishes, potato salads, dressings, dips, salad sauces and quark dishes.
(No additional discounts valid on the set offer)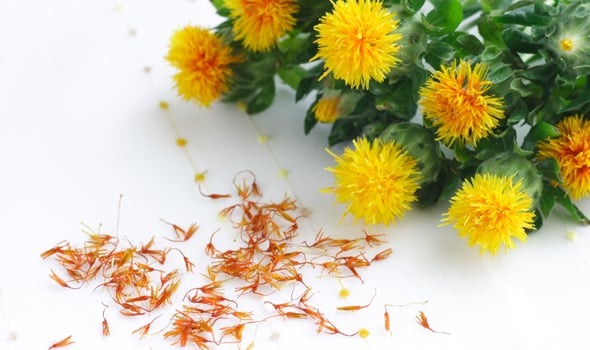 No colouring and
preservatives
Without chemical additives
The GEFRO Safflower Oil is carefully refined, no chemical additives are used and it is not bleached.
Tip: do not use safflower oil for frying as it is not heat-resistant. Its smoke point is at 150° C. Steaming and gentle cooking is however possible. We recommend using GEFRO (Deep) Frying Oil for frying and deep-frying.
Precious ingredient
Safflower oil is extracted from the seeds of the safflower plant. The nutty mild cooking oil with its light to golden yellow colour is used primarily for adding flavour to dishes. It is well suited for making dishes that do not need to be heated. It has a high amount of linoleic acid – an essential polyunsaturated fatty acid. The symbiosis between vitamin A and natural vitamin E increases the nutritional benefits.
It's all in the mix
Since GEFRO Safflower Oil contains linoelic acid, an omega-6 fatty acid, we recommend regularly bringing variety into your kitchen with our GEFRO Omega-3 Cooking Oil. A perfect combination of tastes for any cholesterol-conscious diet that not only has a positive effect on the cardiovascular system but also on cellular metabolism. Together they provide the right balance of omega-3 and omega-6 fatty acids.
Natural and high-grade
GEFRO Safflower Oil is carefully refined, not extracted and not bleached to thereby retain its typical flavour. When stored in cool places, it may become lightly cloudy. Proof that GEFRO Safflower Oil is naturally produced.