Please select size and quantity:
*Inclusive VAT, excluding delivery costs (for orders under €49.90). In stock, approx. 5 - 8 working days delivery time Shipping.

DE-087-012
With 70% Potatoes
Potatoes are a versatile vegetable and they're irresistible as a main dish, side dish or soup. Served with vegetables, fried onions, sausages or bacon, this hearty potato soup from GEFRO makes a wholesome meal. And if you don't want such a heavy meal, just add a little milk or cream to the soup instead. The potato soup is perfect for thickening other foods. With just a little soup powder sprinkled on mashed potatoes, you'll get a nice solid consistency.
Preparation
Add two heaped tablespoons (30 g) to half a litre of warm water, bring to the boil, stir and enjoy!
Add milk, crème fraîche, a touch of cream, parsley or chervil, fried onions, diced bacon, cheese or sausage, as desired.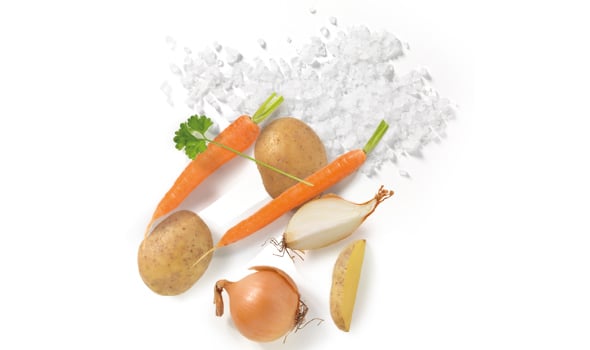 No colouring and
preservatives
Traditional ingredient
The value of a nourishing potato soup is something our mothers and grandmothers knew and appreciated. Internationally, this soup finds much appreciation – the French enjoy eating 'soup parmentier', a soup named after Antoine Augustine Parmentier, who made a significant contribution to fighting the famine raging at that time by suggesting that the potato be made a staple food in 1770.
In Portugal, 'caldo verde', which is usually accompanied with black pudding or liver sausage as well as a touch of vinegar, is a popular part of the cuisine, whilst the Spaniards prefer eating 'sopa patatas' – an Andalusian recipe refined with sweet peppers and chilli peppers as well as white wine and a bay leaf.
In addition to potatoes (70%) and herbs, the hearty GEFRO Potato Soup gets its unmistakably good taste from vegetables such as onions, carrots, parsley and celery. It is perfect for thickening stews, lentil dishes, mashed potatoes and for all vegetable soups, for example, leek soup, broccoli soup and cauliflower soup.
Used as a seasoning, GEFRO Potato Soup also whips up delicious dishes, such as Mexican Potato Bake or Lentil Stew.
Served on its own, possible side dishes include sausages, diced bacon, meatballs, liver sausages and black pudding or cheese as well as fresh, crispy bread torn apart and used as croutons. A dollop of cream, parsley, fried onions or chervil – a potato soup can be topped off in a number of different and creative ways. It's a real pleasure trying and testing out which option tastes best. Have fun and bon appétit!
TIP: season the soup with a bit of dried marjoram just before serving. The heat unlocks the savoury yet mildly sweet aroma of crushed marjoram which matches potato soup perfectly.