Please select size and quantity:
*Inclusive VAT, excluding delivery costs (for orders under €49.90). In stock, approx. 5 - 8 working days delivery time Shipping.

DE-087-003


The base for light ORGANIC sauces
A fabulous base for all white sauces! Ideal for making fine soups and sauces creamy. The GEFRO ORGANIC White Sauce goes well with light vegetable or meat dishes.
Light-textured sauces as we known them today started to appear around the 70s. The revision and refinement of existing recipes, the use of arrowroot flour as a thickener and the increasingly popular process of reducing (the simple boiling of the liquid until the sauce takes on a creamy consistency and concentrated flavour) largely contributed to the development of low-calorie sauces.
Preparation
As a sauce:
add 1 heaped tablespoon (approx. 25 g) of GEFRO ORGANIC White Sauce to 1/4 litre warm water and whisk.
Briefly bring to the boil and enjoy the gourmet sauce.
Important: always boil briefly!
TIP:use milk instead of water. The more milk you use, the creamier the soup will be – and with only a few calories.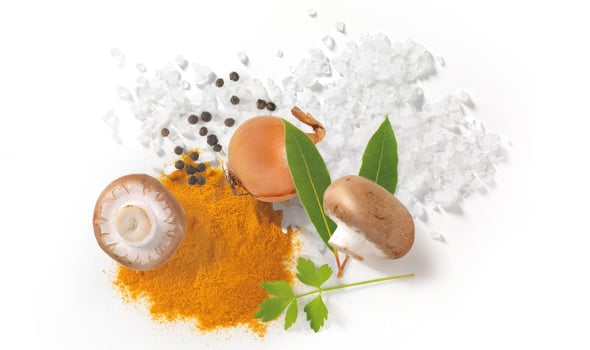 No colouring and
preservatives
Satisfying sauces with only a few calories
With only 0.30 g of vegetable fat per 100 ml of sauce, GEFRO ORGANIC White Sauce does more than just live up to this trend of light, enjoyable sauces. The delicious flavour is the result of an exquisite combination of first-class, organically farmed ingredients and spices. The gentle manufacturing process ensures the sauce is easy to digest and light on the stomach.
With GEFROs vegetarian ORGANIC White Sauce, it's a cinch to make a delicious sauce on its own that goes wonderfully with vegetarian fare as well as fish or meat dishes. Lasagne and casseroles can also be topped off with this sauce. The ORGANIC White Sauce is also a good choice to thicken, season or rarefy existing sauces.
In addition to its delightful flavour, the quick and easy preparation of the fine GEFRO White Sauce makes it an essential part of any well-stocked pantry.
Fresh herbs, capers, champignons or white wine – GEFRO ORGANIC White Sauce can be seasoned and refined to suit your personal taste. For a boost of flavour and aroma, only add freshly chopped herbs at the very end.
GEFRO ORGANIC – finest quality for the highest demands
In the light of current issues regarding resource conservation, intergenerational justice and sustainable production of food, it is becoming more and more important to consciously use resources and energy.
Living up to these changing demands in the area of food production logically means increasingly switching over to organic farming and the consumption of the resulting products thereof.
With our self-developed range of ORGANIC products, we gladly rise to these new challenges with conviction. It goes without saying that an environmentally friendly and animal friendly approach is a matter of course for us.
Organic by conviction
All ingredients used in our ORGANIC products come from organic farms. This means that in addition to producing organic grains, vegetables, etc., organic farmers also grow feed for their animals to consume and use their manure to fertilise their crops. They completely abstain from using synthetic pesticides and genetic modification. Animal welfare and environmentally friendly processes are also promoted in addition to organic farming.
All GEFRO ORGANIC products are inspected and certified, in accordance with EU Organic Regulations. DE-ÖKO-003. EU/non-EU Agriculture.