Organic Spice Blend "Mexico Chilli"
Please select size and quantity:
*Inclusive VAT, excluding delivery costs (for orders under €49.90). In stock, approx. 5 - 8 working days delivery time Shipping.

DE-087-008


Piquant and full-bodied
Chili doesn't have to set your mouth on fire. Our GEFRO ORGANIC Spice Blend 'Mexico Chili' has a full-bodied and spicy flavour without overwhelming the natural taste of the food. The fiery seasoning made from chillies, cumin and paprika has just the right amount of spice that your taste receptors can handle.
(No additional discounts valid on the Set)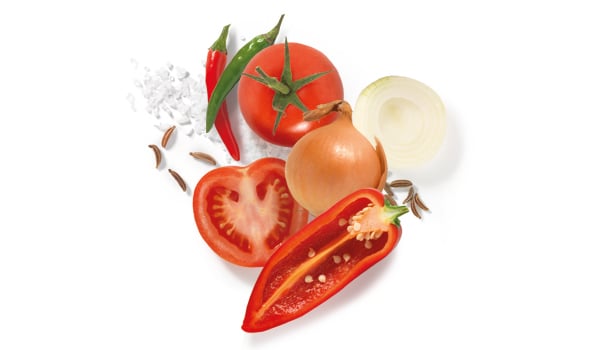 No colouring and
preservatives
Colourful diversity
Tortillas, enchiladas, burritos, burros, fajitas – the pleasant-sounding names of traditional Mexican dishes alone are enough to put you in a good mood. Fiestas – colourful, cheerful festivals celebrated by Mexicans on all occasions – are brought to mind immediately.
Tex Mex cuisine, coming from the border regions between Mexico and Texas, can hardly be separated from traditional Mexican cuisine today. This delicious way of cooking includes influences from Texan, Mexican and Spanish cuisines. This fiery and sultry cuisine not only uses corn tortillas, chillies or beans, but also contains elements of Indian cooking.
Savoury Tex Mex Dishes
This culinary connection is just as much responsible for the world-famous and well-known spicy hot chilli con carne as it is for the ultimate classic – tacos. These crispy baked corn tortillas are filled with meat, poultry or vegetables and are best served with a delicious salsa. Mexican potato chips are called nachos and are made out of corn. Served with cheese or chillies, they make a crunchy, delicious treat!
A basic element of this simple cuisine featuring many savoury sensations is the tortilla - thin, flat baked discs made from corn or corn/wheat flour. When made from corn and filled with meat, chillies or vegetables and served with delicious sauces or salsa, these delicious treats are called 'Enchiladas'. Burritos, on the other hand, are wheat tortillas that are also served with a filling. Minced meat, beans, rice, tomatoes and avocados are popular ingredients. Fajita is a dish where not only the chef is required, the guests also play a role in the making. Meat and vegetables are served in a hot pan. The meat has been marinated with a special fajita spice mix. It is served with small wheat tortillas, sour cream, Guacamole, cheese, and salad, to be taken as desired.
Fine herbs and fruity-hot chilli
In addition to corn, beans, beef and vegetables, spices such as chilli, oregano, cumin and coriander are a permanent part of this characteristically spicy cuisine.
Chillies of all different kinds are used with joy and pleasure. Fresh or dry, from mild to extremely spicy, they are a challenge for the palate. In terms of popularity the green jalapeño, which turns a bright red colour when ripe, is right at the top. It originates from Mexico and has a strong yet bearable spicy taste. Jalapeños are ideal for salsas or salads and are used as the main ingredient in so-called 'jalapeño poppers' – a red-hot starter in which the jalapeños are cut open and the spicy insides are removed. The hollowed-out chillies are then filled with cheese, breaded and baked.
The strongest of its kind, the Habanero pepper is grown exclusively on Mexico's Yucatan Peninsula. It reaches a full ten points on the scale of spiciness. The fruity aroma and tremendous pungency of this pepper is a welcome addition to hot sauces and spicy salsas that contribute greatly to the very special charm of this culinary culture.
The serrano chilli pepper however is a little milder, yet it's got just the right amount of bite and is perfect when you wish to have something 'hot' to eat or want to spice up tomato-based salsas.
Another moderately spicy variety is the poblano chilli pepper. It is not eaten raw but rather cooked or stewed. It is milder than jalapeño peppers and a permanent part of Mexican cooking.
Tex Mex made simple
GEFROs ORGANIC Spice Blend 'Mexico Chilli' reflects the strongly present fondness for seasoning in this colourful food culture, which is characterised by many influences.
The selected combination of different vegetables (tomatoes, onions, peppers) and spices (chilli, cumin, cinnamon) plus fine herbs from controlled organic farming add a spicy kick to food without overwhelming the dish with too much spiciness.
TIP: the chemical 'Capsaicin' is responsible for giving chillies their pungency. High-fat foods such as milk, cream, cheese or yoghurt work well to neutralise the spicy effect of capsaicin, if things get too hot ...
GEFRO ORGANIC – finest quality for the highest demands
In the light of current issues regarding resource conservation, intergenerational justice and sustainable production of food, it is becoming increasingly important to use resources and energy more consciously.
Living up to these changing demands in the area of food production logically means increasingly switching over to organic farming and the consumption of the resulting products thereof.
With our self-developed range of ORGANIC products, we gladly rise to these new challenges with conviction. It goes without saying that an environmentally friendly and animal friendly approach is a matter of course for us.
Organic by conviction
All ingredients used in our ORGANIC products come from organic farms. This means that in addition to producing organic grains, vegetables, etc., organic farmers also grow feed for their animals to consume and use their manure to fertilise their crops. They completely abstain from using synthetic pesticides and genetic modification. Animal welfare and environmentally friendly processes are also promoted in addition to organic farming.
All GEFRO ORGANIC products are inspected and certified, in accordance with EU Organic Regulations. DE-ÖKO-003. EU/non-EU Agriculture.