Soups, Sauces and Seasonings
Product filter
Simply choose filter criteria
to quickly find suitable products!
What makes GEFRO great: Soups, Sauces, Seasonings and more
The company GEFRO, with its long tradition, has offered health-conscious customers vegetarian and therefore particularly beneficial products since 1924.
In line with the company's philosophy, the company stands for high quality soups, sauces, and seasonings, made in Germany. Besides the classic range, GEFRO also offers many of its products in organic quality and in a metabolically optimised variety through its Balance range. Vegetarian, vegan, gluten-free and lactose-free – that's GEFRO's product diversity.
Thilo Frommlet, owner and managing director, is the third generation to run this family company. He believes in the importance of social commitment which is why GEFRO has initiated many aid projects over the decades, for example "Soup for Africa", or "GEFRO makes dreams come true".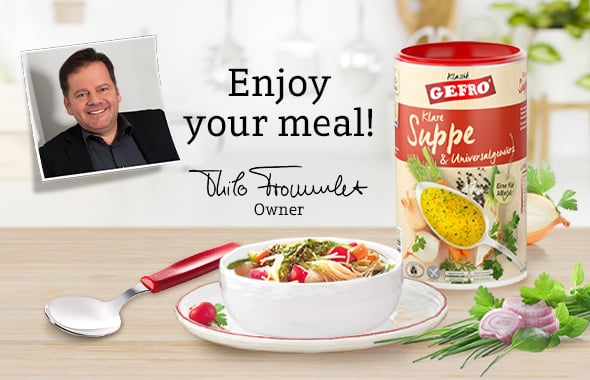 There are lots of great GEFRO products to discover. Our customers, many of whom have been with us for decades now, already know and love our fine Soups, Sauces, and Seasonings. If this is your first visit to our online shop, we hope you enjoy exploring our product ranges. By the way - we also have a practical filter allowing you to search for only gluten-free/lactose-free/vegan/organic products. Simply filter to suit your needs.
Shop comfortably and securely in our online shop. The shop is certified and your customer data is transferred securely. We offer various, safe payment methods.