Please select size and quantity:
*Inclusive VAT, excluding delivery costs (for orders under €49.90). In stock, approx. 5 - 8 working days delivery time Shipping.

DE-087-102


Natural flavour in finest ORGANIC quality
Incredible but true: it tastes like a typical Italian Bolognese Sauce with meat. In reality however, you area savouring a masterfully created Bolognese sauce in finest organic quality – with only vegetable ingredients.
The GEFRO Organic Bolognese Sauce fulfils the highest requirements of a healthy and trendsetting vegan-vegetarian diet because we use soya granules instead of meat for this popular classic sauce. Bolognese Sauce is perfect with pasta, with wonderful names, such as cannelloni, farfalle, fusilli, or rigatoni. This Bolognese sauce also tastes great with rice, or lasagne and other gratins.
Preparation
Add 4 heaped tablespoon (approx. 50 g) of GEFRO Bolognese Sauce to 1/4 litre warm water and whisk.
Briefly bring to boil, simmer for 2-3 min and enjoy.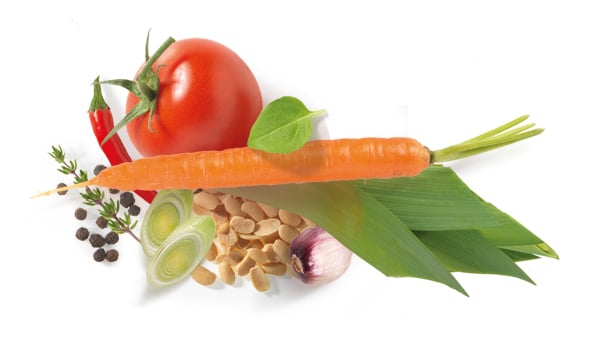 No colouring and
preservatives
Purely vegetable ingredients
The "Ragù alla Bolognese" has origin in the Italian city of Bologna. Ragùs were typical stew dishes with fish, meat or vegetables in aromatic spicy sauces. Through the years it evolved into the present-day classic base receipe with minced meat or soja granules, tomatoes, onions and garlic – commonly combined with spaghetti.
Purely vegetarian ingredients such as vegetables, aromatic herbs and spices give our Organic Bolognese Sauce its exquisite taste: a quickly prepared delight you can enjoy without hesitation.
Enjoy this great ORGANIC Bolognese Sauce, served with traditional spaghetti and cook yourself a piece of Italy today. Spaghetti and Bolognese are not merely pasta with sauce, they are undoubtedly the most popular pasta dish, making not only children's eyes light up. But not only its amazing flavour is responsible for its popularity, its name alone conjures up images of beautiful Italy and its famous cuisine, and evokes the desire for "sweet idleness", or "dolce far niente" as the Italians so aptly put it.
GEFRO ORGANIC – finest quality for the highest demands
In the light of current issues regarding resource conservation, intergenerational justice and sustainable production of food, it is becoming increasingly important to use resources and energy more consciously.
Living up to these changing demands in the area of food production logically means increasingly switching over to organic farming and the consumption of the resulting products thereof.
With our self-developed range of ORGANIC products, we gladly rise to these new challenges with conviction. It goes without saying that an environmentally friendly and animal friendly approach is a matter of course for us.
Organic by conviction
All ingredients used in our ORGANIC products come from organic farms. This means that in addition to producing organic grains, vegetables, etc., organic farmers also grow feed for their animals to consume and use their manure to fertilise their crops. They completely abstain from using synthetic pesticides and genetic modification. Animal welfare and environmentally friendly processes are also promoted in addition to organic farming.
All GEFRO ORGANIC products are inspected and certified, in accordance with EU Organic Regulations. DE-ÖKO-003. EU/non-EU Agriculture.