Organic Spice Blend "Indian Curry"
Please select size and quantity:
*Inclusive VAT, excluding delivery costs (for orders under €49.90). In stock, approx. 5 - 8 working days delivery time Shipping.

DE-087-009


A touch of India
This Indian curry seasoning brings a little taste of India to your kitchen and spices up your cooking skills with a colourful, exotic touch. We used ginger, cumin and coriander as spices in the ORGANIC Spice Blend 'Indian Curry' and rounded it off with the fruity aroma of coconut.
TIP: Indian Curry goes well with light-coloured meat and is excellent with cauliflower!
(No additional discounts valid on the Set)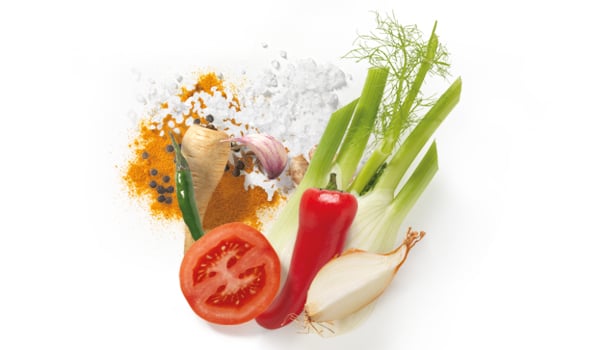 No colouring and
preservatives
Indian Curry – Orient meets Occident
India – exotic, mysterious, diverse, fascinating, intensely bright colours. That's how the Western World perceives this country filled with delightful aromas, scents and fragrances: a perception influenced by the Indian subcontinent's strong connection with the spice trade dating back hundreds of centuries.
According to legend, crops began being planted already in 3,000 BC and paved the way for the development of vegetable dishes with aubergines, pumpkin and squash, yams, beans and jack-fruit but also for wheat and millet flat-bread. Originally, only curry leaves, cardamom pods and peppercorns were native to the country as spices. Saffron, onions, garlic, pomegranate, dates and black mulberries were introduced to the country from Persia. The Romans brought wine, coriander, cumin and fennel with them.
The acclaimed cuisine of the Moguls, with its rich and delicious dishes flavoured with cream, puréed fruit, nuts, raisins, onions or garlic, however, was the cuisine responsible for shaping the classical Indian cuisine as it is known around the world today.
Cashews and peanuts, papaya, corn, avocados, tomatoes, potatoes, pork and highly valued chillies made their way into the subcontinent's exotic and tantalising world of spices at the end of the 15th century, thanks to the Portuguese.
Harmony on a plate: Indian spice mixes and Indian Curry
Upon their discovery of the maritime route to India, the Portuguese laid the foundations of the spice trade, and thereby ushered in the introduction of many other spices into the country, without which Indian cuisine is unimaginable today and which characterise the flavour of dishes. Among the most commonly used spices are fenugreek, chilli, curry, fennel, ginger, cumin, coriander, amchoor, turmeric, cumin, coconut and mustard seeds.
The spiciness of different dishes is what first comes to mind when we think of Indian cuisine, but it can be much more than just spicy ...
sweet, sour, salty, spicy, mild, bitter, tart – harmonious mixing and matching of different ingredients and spices has been brilliantly mastered in India. In addition to fantastic and unique flavours, the intoxicating smell of Indian dishes also bears witness to the high art and perfect mastery of the play between ingredients and aromas.
It's not surprising that spice blends are at the core of Indian cuisine. The secret to a good blend of spices is that none of the individual spices contained within it overwhelm the others, but rather that all the ingredients separately reveal themselves, just like the flavours of the other ingredients.
Treat your senses
Thanks to GEFRO's ORGANIC Spice Blend 'Indian Curry', it's quick and easy to give food just the right amount of flavour and spice – subtle and delicate. The combination of turmeric, cumin, coriander, ginger, garlic, chilli, galangal and cinnamon with vegetables, such as tomatoes, onions, peppers, fennel, celery, and fruits such as apples and bananas, not to mention the addition of grated coconut and herbs, creates an extremely well-balanced, flavourful blend of spices which can be used when that typical Indian flavour is desired.
GEFRO ORGANIC Spice Blend 'Indian Curry', which uses organically certified ingredients, adds the finishing touches to stews, meat, poultry, fish and vegetables as well as a wide variety of dips. The mysterious allure of India captivates us as soon as the exotic fragrance of this wonderful blend diffuses through the air
TIPS: the flowery aroma of basmati rice makes an excellent accompaniment to curry dishes, fish and meat.
When steamed, the rice remains nice and firm, but when boiled in a sealed pot, the nutrients (carbohydrates, protein) are better preserved.
Chutneys are also popularly served with savoury Indian dishes. They can either add spice and flavour to a dish or take the spicy edge off. They are made of raw or cooked vegetables, fruit, herbs, and contain vinegar, sugar, salt and spices.
GEFRO ORGANIC – finest quality for the highest demands
In the light of current issues regarding resource conservation, intergenerational justice and sustainable production of food, it is becoming increasingly important to use resources and energy more consciously.
Living up to these changing demands in the area of food production logically means increasingly switching over to organic farming and the consumption of the resulting products thereof.
With our self-developed range of ORGANIC products, we gladly rise to these new challenges with conviction. It goes without saying that an environmentally friendly and animal friendly approach is a matter of course for us.
Organic by conviction
All ingredients used in our ORGANIC products come from organic farms. This means that in addition to producing organic grains, vegetables, etc., organic farmers also grow feed for their animals to consume and use their manure to fertilise their crops. They completely abstain from using synthetic pesticides and genetic modification. Animal welfare and environmentally friendly processes are also promoted in addition to organic farming.
All GEFRO ORGANIC products are inspected and certified, in accordance with EU Organic Regulations. DE-ÖKO-003. EU/non-EU Agriculture.