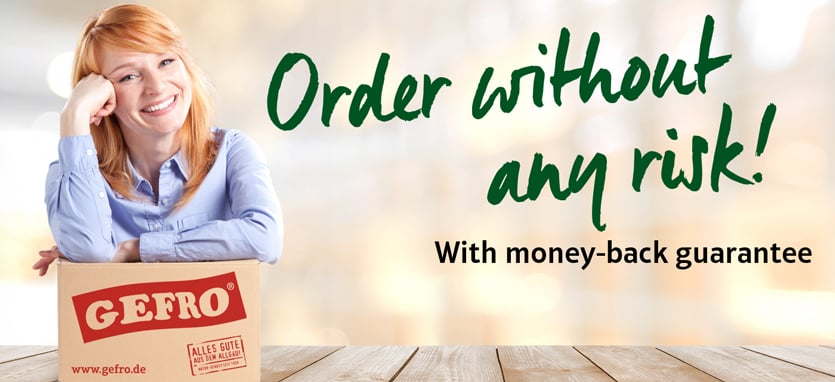 Cancellation Policy
Cancellation Policy
Cancellation Right
You have the right to cancel this contract within fourteen days without giving any reason.
The cancellation period shall be fourteen days from the date on which you or a third party designated by you, which is not the transport company, accepts the delivery of goods.
To exercise your right of cancellation, you must contact us (GEFRO GmbH & Co. KG, Rudolf-Diesel-Str 21, D-87700 Memmingen/Allgäu, Phone: +49 8331/95 95-0, email: info@gefro.com) and inform us of your decision to cancel this contract by providing an explicit declaration of intention (for example, a letter sent by postal mail, fax or email). You may use the sample cancellation form provided, however, this is not obligatory.
The submission of the cancellation notification before the end of the cancellation period shall be deemed sufficient to observe the cancellation deadline.
Consequences of Cancellation
In the event that you cancel this contract, we shall refund all the payments that we have received from you, including delivery charges (except for additional costs incurred as a result of choosing a delivery mode other than the cheapest standard delivery offered by us), without delay and at the latest within fourteen days from the date on which we receive notification of your cancellation of this contract. For this refund, we shall use the same method of payment that you used for the initial transaction, unless you have explicitly agreed otherwise; in no case shall you be charged fees for this repayment. We reserve the right to refuse the refund of payments until we have received the goods or until you have furnished proof that you have returned the goods, whichever is earlier.
You are obliged to send back or hand over the goods to us without delay, in any event no later than fourteen days from the date on which you notify us about the cancellation of this contract. The deadline shall be considered met if the goods are sent before the cancellation period of fourteen days has expired. The direct costs of returning the goods shall be borne by you.
You shall only be liable for any diminished value of the goods if the diminished value is as a result of handling beyond what is deemed necessary to establish the nature, characteristics and functioning of the goods.