Please select size and quantity:
*Inclusive VAT, excluding delivery costs (for orders under €49.90). In stock, approx. 5 - 8 working days delivery time Shipping.
Red Gold
Saffron is the most valuable spice in the world – approximately 250,000 crocus blossoms are needed to delicately hand-pick 1 KG of saffron threads. This "red gold" not only possesses an intense colouring ability, it also has an unmistakable, exquisite flavour with an intense and uniquely fine note.
This offer is only valid for a short time and while stocks last
Premium category from Persia: Sargol Grade 1
Preparation
Preparation Tip:
Crush a few saffron threads, either between your fingers, or in a mortar. Alternatively, place the threads for 5-10 minutes in warm water. The shorter the cooking time, the more flavour will be retained.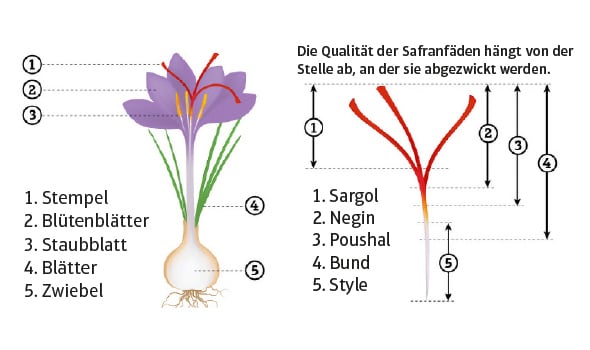 No colouring and
preservatives
High level of quality
GEFRO guarantees an excellent quality from the best production area in the world, recognisable by its whole, dark red saffron threads. Quality you can taste.
Ideal for:
Rice dishes, e.g .Paella and Risotto
Soups, especially fish soups
Light sauces for fish and vegetable dishes
Pasta dishes
For marinating meats and fish
Milk rice
Persian almond pudding
Soufflés
Ice cream specialities
Cakes and other baked goods
Pistachios, nuts and other snacks
GEFRO offers carefully selected, whole saffron threads with deep red colouring. White or yellow threads are painstakingly removed in order to give you the highest quality and an unmistakeable flavour experience. Extensive laboratory testing proves the absolute purity and the consistent quality level of our saffron.