Organic Spice Blend "African Style"
Please select size and quantity:
*Inclusive VAT, excluding delivery costs (for orders under €49.90). In stock, approx. 5 - 8 working days delivery time Shipping.

DE-087-007


Typical African Spice Mix
The ideal seasoning for recipes from African and Oriental cooking. The flavour of our GEFRO ORGANIC Spice Blend 'African Style' will remind you of strolling around the bazaar, where the scents of spices such as cumin, allspice, cardamom, coriander, nutmeg, or turmeric fill the air. With it, you can cook exotic dishes like tabbouleh with couscous or hummus with falafel. The desire to see distant lands is destined to get a hold of you!
(No additional discounts valid on the Set)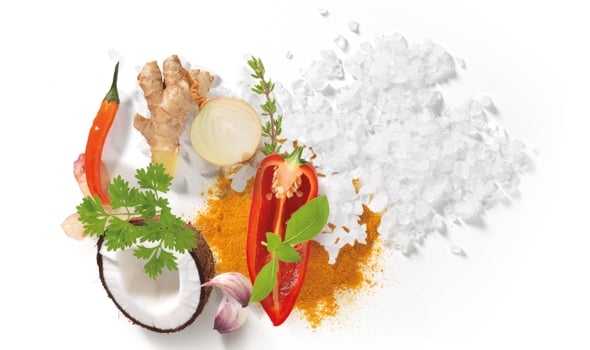 No colouring and
preservatives
Like a spell from One Thousand and One Nights
It almost seems as if Damascus is the 'cradle of all spices', whereas hardly any other country in the Arab world has such a wide variety of uses for spices as does Morocco, the land of the fairy tale One Thousand and One Nights.
Intensive red paprika powder, the bright yellow colour of precious saffron or turmeric (ginger family, curcuma), beige-hued cumin, various peppers, green aniseed, cinnamon, cloves, jasmine and lavender, cardamom, coriander, nutmeg, ginger – the Moroccan spice world is extremely aromatic and highly diverse.
If you roam the alleyways of the spice markets in the souks of Fes all the way to Marrakesh, the rich kaleidoscope of colours on display is a pure feast for the senses. On top all this, the intoxicating scents filling the air tingles in your nose in a most pleasant and extraordinary way. If you stroll through the narrow spice-laden streets of the largest souk located in Marrakesh, the ancient city of the desert, you will discover countless market stands featuring woven baskets, crates and waist-high sacks filled with an exuberant amount of spices, in different forms from exotic-smelling dried whole seeds to fine powder versions.
Precious spices for health
The digestive properties of turmeric or cumin are common knowledge, as is the wisdom that black cumin protects the stomach lining and stimulates the immune system. Moreover, it is well-known throughout the Arab world, that herbs and spices have certain healing properties.
With this large number of precious treasures, the Moroccans have become true masters in creating spice blends. They are very adept at skilfully combining different flavours of spices, a testament of which are the many, absolutely phenomenal seasonings that exist. And it's not just expert cooks who experiment with these pleasant-smelling treasures. Even amateur cooks have fun composing their own spice creations.
In Syria, cooking with spice blends is also preferred to cooking with many individual spices.
Exotic delight
GEFROs tasty, vegan ORGANIC Spice Blend 'African Style' unites a variety of flavours, capturing and reflecting the stunning world of spices coming from African and Oriental cuisine.
The exotic ORGANIC blend of vegetables (tomatoes, onions, peppers, celery and fennel), sea salt and spices (cumin, turmeric, coriander, chilli, ginger, garlic, cinnamon and cloves) is given a particularly charming and interesting flavour thanks to its combination with apples, herbs and grated coconut. All ingredients come from organic farming and are purely plant based.
Sophisticated and traditional
With this seasoning, you can dive into African and Oriental cultures and experience their fascinating world of unique-tasting delicacies. Your food will always have the right amount of spice – with just one simple flick of the hand …
Experimentation knows no bounds. Expand your world of cooking with traditional Moroccan dishes, such as harira, a stew made with lamb, chickpeas, tomatoes, onions, rice and spices, or try tagine, the ultimate national dish of Morocco. Tagine involves flavouring meat, fish or vegetables with a refined mix of subtle blends and then cooking the ingredients for hours in clay pots with cone-shaped lids called 'tagines'. (Should you not have a clay pot handy, a classical casserole dish will do the trick too).
A culinary highlight of oriental cuisine, also often called 'yellow cuisine' due to the yellow colour of many of the spices, is couscous. This taste sensation is created by mixing granules of durum wheat in a bowl with strongly flavoured broth (e.g. GEFRO soup) and then fluffed with a fork. Firm textured couscous goes well with vegetables, meat or fish.
GEFRO ORGANIC – finest quality for the highest demands
In the light of current issues regarding resource conservation, intergenerational justice and sustainable production of food, it is becoming increasingly important to use resources and energy more consciously.
Living up to these changing demands in the area of food production logically means increasingly switching over to organic farming and the consumption of the resulting products thereof.
With our self-developed range of ORGANIC products, we gladly rise to these new challenges with conviction. It goes without saying that an environmentally friendly and animal friendly approach is a matter of course for us.
Organic by conviction
All ingredients used in our ORGANIC products come from organic farms. This means that in addition to producing organic grains, vegetables, etc., organic farmers also grow feed for their animals to consume and use their manure to fertilise their crops. They completely abstain from using synthetic pesticides and genetic modification. Animal welfare and environmentally friendly processes are also promoted in addition to organic farming.
All GEFRO ORGANIC products are inspected and certified, in accordance with EU Organic Regulations. DE-ÖKO-003. EU/non-EU Agriculture.