Organic Spice Blend "Thai Curry"
Please select size and quantity:
*Inclusive VAT, excluding delivery costs (for orders under €49.90). In stock, approx. 5 - 8 working days delivery time Shipping.

DE-087-122


Just right for exotic dishes from the Far East!
GEFRO's Organic Spice Blend "Thai Curry" exudes that unique aroma that makes Asian and Thai cuisine so distinctive. This organic Thai Curry seasoning is wonderfully full-bodied and warmly spicy with both a fresh and slightly sweet note. The balanced ratio of paprika, chilli, ginger and black pepper creates that very light, pleasantly fruity spiciness that makes Asian dishes including Thai cuisine so distinct and special. Equally essential for Asian dishes are flavoursome turmeric, coriander and the strong lemon-like aroma of lemongrass.
GEFRO's Organic Spice Blend "Thai Curry" allows you to season perfectly - exotically, not too mild and not too hot, but just right when it comes to the great taste of typical Asian cuisine - fantastic!
Ideal for: curries, sushi, all Asian rice and noodle dishes with meat, fish & seafood or vegetables, Asian soups with noodles, vegetables and/or meat ingredients, diverse vegetable dishes from the wok, meat dishes, whether duck, chicken, pork, beef or lamb.
Tip: If you accidentally used a bit too much – add some milk or coconut milk to neutralise the spiciness.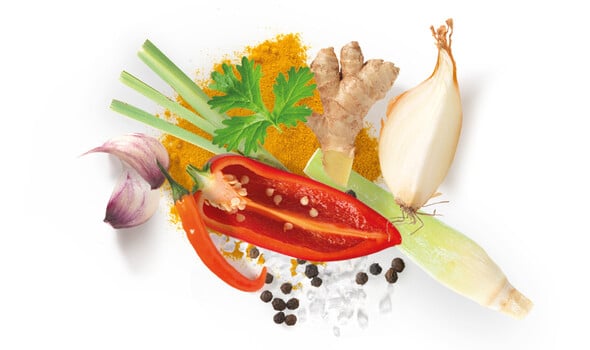 No colouring and
preservatives
Asian cuisine & Thai food - alluring, delicious, colourful, spicy & varied
Asian cuisine, which also includes the delicious Thai cuisine, ranges from delicately mild to fiery hot. Food is fried, sizzled, gratinated, braised, grilled and cooked, mostly in the wok, in restaurants as well as at the country's typical food stands.
The fantastic variety of Asian food cultures and the very special flavour of these extremely creatively prepared dishes are also gaining an ever-growing fan base around the globe. Asian cuisine is here to stay! Thanks to GEFRO's Organic Spice Blend Thai Curry, this delightful style of cooking has just gotten easier!
Curry dishes - feel-good food from Asian and Thai cuisine
What stew is to us, is a spicy curry dish in Asia. India and Thailand in particular are famous for their excellent curries. The basis is a spicy sauce with a creamy consistency, and everything that tastes good can go into it: poultry, pork, beef and lamb or fish, potatoes, vegetables, coconut milk, feta, chickpeas, lentils, green beans, mushrooms, the list goes on ... It is served with rice or the traditional Indian naan bread
Peking soup, Tom Yam & Súp tôm chua cay
Soup is a must have in the Far East! These truly great Asian soups are an integral part of Asian food culture; they are available on every corner at all times of the day and night. With rich ingredients such as noodles, meat, poultry, fish, vegetables, mushrooms, soy and bamboo shoots, they serve as a main meal. Be it the Chinese Peking soup with chicken, soy and bamboo shoots, prepared sweet and sour or spicy, or the Súp tôm chua cay, a slightly spicy Vietnamese soup with prawns and vegetables. Mmmmm, delicious ...
One of Thailand's most popular cookshop soups is Kuai Tiao, a rice noodle soup topped with meat of choice, and the traditional, sour and spicy Tom Yam soup, which is so diverse. From Tom Yam Gung (with prawns) to Tom Yam Gai (with chicken) and the fish version, Tom Yam Pla. Delicious! With GEFRO Organic Spice Blend Thai Curry you can give your soup a spicy flavour with unmistakable Asian aromas.
Spicy dishes from the wok
Colourful Asian wok dishes are very inspiring because they are incredibly versatile. From crunchy vegetables, mushrooms, sprouts, leeks, Chinese cabbage, fish, meat, prawns, tofu, rice or Asian noodles, lemongrass, chilli and coconut milk, anything that tastes good and can be fried can go into the wok. So, get out the wok and start cooking! Have fun!
From sweet and sour duck to Indian butter chicken
China's delicious duck preparations, e.g. in a spicy Szechuan style or with sweet and sour sauce, are delicious and as popular as the lamb and chicken dishes of Indian cuisine, which are wonderfully exotic with spicy peanut, coconut, almond or curry sauces, vegetables, nuts, mango or mint.
Pad Thai & Khao Pad - rice and noodles with a difference
With the traditional Thai dish Khao Pad, you simply combine fried rice with chicken, pork or beef, shrimps and of course vegetables of all kinds, and season with GEFRO's Organic Thai Curry spice blend to get that wonderful Far Eastern flavour!
Fans of noodles can get rice noodles, glass noodles, Soba noodles and Mie noodles to make Thailand's best-known noodle dish- Pad Thai. Here, rice noodles and beaten eggs, tofu, prawns or meat and spicy fish sauce show how wonderfully different and simply delicious a noodle dish can taste.
Even salads are often prepared with noodles or rice in Asian cuisine and are more than delicious and creative. So get out your salad bowl right now and make yourself a tasty curry noodle salad with coriander and mint or an Asian rice salad with sugar snap peas and prawns. Utterly delicious!
Don't forget Asian finger food like crispy Thai spring rolls with dip. They're easy to make and taste great with our delicious, organic Thai Curry seasoning.
Sushi - Little rolls that really pack a punch
At home, we enthusiastically roll sushi and use what we learned with awe from the sushi master in the Japanese cooking course we took. For nigiri sushi, rice is used to form elaborate narrow rolls that are topped with fish, omelette or tofu, for maki sushi we fill rice and a maximum of two ingredients such as salmon, tuna, avocado and cucumber into small rolls of seaweed leaves. Advanced cooks dare to try sashimi, the fine art of cutting raw fish, i.e. the pure product, into the thinnest of slices and serving it plain. By the way, we strongly recommend using sharp knives for this amazing Japanese cooking discipline!
Typically Asian - with a single spice blend
The real secret to the great flavour of all the dishes from this huge continent is undoubtedly the herbs, spices and seasoning mixes used. Not only do they give a wonderful, characteristic aroma and taste, depending on the spice used, they also ensure wonderfully bright colours on your plate. Don't worry, you don't have to buy countless different herbs and spices to bring this very special spice note to your Asian dishes.
With GEFRO's Organic Spice Blend "Thai Curry", you can give your Asian and Thai dishes that typical, unmistakable, exotic taste with just one seasoning mix!
We wish you "Ăn ngon miệng nhé" or in short: Bon appétit!