Organic Vegetable Bouillon


Please select size and quantity:
*Inclusive VAT, excluding delivery costs (for orders under €49.90). In stock, approx. 5 - 8 working days delivery time Shipping.

DE-087-001


The "For everything" Seasoning
Our Organic Vegetable Bouillon is green inside and out: the clear vegetable bouillon in our organic range of products. Ideal for broths and stews or with soups combined yummy ingredients, such as noodles, croutons, dumplings, ravioli or even boiled fillet.
Many tasty soups with nutritious ingredients, such as noodles, dumplings, ravioli, or piquant and hearty, spicy vegetable or meat stews use a clear bouillon as a base or are enriched with clear bouillon. With GEFRO's vegan ORGANIC Vegetable Bouillon, it's possible to do all this in pure organic quality. Simply add 20 g of the universal seasoning in one litre of water, whisk and enjoy the light clear bouillon, with only 5 kcal per 100 ml, which can not only be used as a basis for soups but also for lavish sauces.
GEFRO ORGANIC Vegetable Bouillon meets all the criteria of a health-conscious and modern diet.
Preparation
As a soup:
mix 1 tablespoon (20 g) with 1 litre of water and voilà, you're done!
As a soup to drink: approx.
1 teaspoon to one large cup of soup.
It also dissolves in cold water!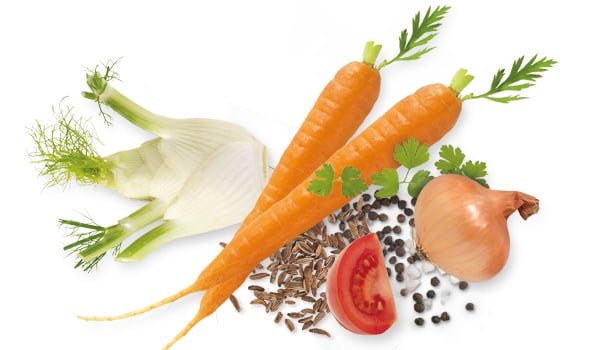 No colouring and
preservatives
The multi-talent in the kitchen
Vegetables, herbs and spices including carrots, fennel, tomatoes, parsley, lovage, chervil, turmeric, pepper and nutmeg form the basis for the savoury flavour. All ingredients for this vegetable broth come from organic farming.
As an alternative to salt, GEFRO ORGANIC Vegetable Bouillon is also readily used as a flavoursome condiment. Add a finishing touch to vegetables, meat, poultry, salads, pasta and rice – with no flavour-enhancing additives, but the best GEFRO ORGANIC quality!
The dry version: sprinkle GEFRO ORGANIC Vegetable Bouillon over vegetables, potatoes, meat, poultry, salads, pasta and rice as a seasoning. Delicious!
GEFRO ORGANIC – finest quality for the highest demands
In the light of current issues regarding resource conservation, intergenerational justice and sustainable production of food, it is becoming increasingly important to use resources and energy more consciously.
Living up to these changing demands in the area of food production logically means increasingly switching over to organic farming and the consumption of the resulting products thereof.
With our self-developed range of ORGANIC products, we gladly rise to these new challenges with conviction. It goes without saying that an environmentally friendly and animal friendly approach is a matter of course for us.
Organic by conviction
All ingredients used in our ORGANIC products come from organic farms. This means that in addition to producing organic grains, vegetables, etc., organic farmers also grow feed for their animals to consume and use their manure to fertilise their crops. They completely abstain from using synthetic pesticides and genetic modification. Animal welfare and environmentally friendly processes are also promoted in addition to organic farming.
All GEFRO ORGANIC products are inspected and certified, in accordance with EU Organic Regulations. DE-ÖKO-003. EU/non-EU Agriculture.