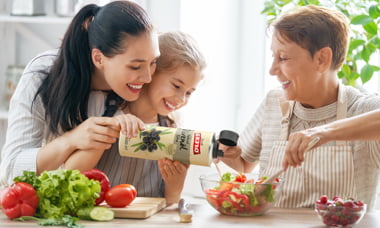 Cooking Oils and Vegetable Fat
With eight different oils and one vegetable fat, GEFRO offers the right oil for every occasion.
Heat-stable oils, suitable for frying, fine extra virgin olive oil and 4 aroma oils for marinating, for sauces, dips and salads, or safflower oil for steaming and cooking at low temperatures- with GEFRO's diverse range of oils, you're sure to find the right oil for your needs.
Healthy and delicious oils!
What exactly are warm-pressed or cold-pressed oils? Oils that are "warm-pressed" were produced through applying heat and pressure. Cold-pressed oil on the other hand, is made by pressing the seeds or fruits. Cold-pressed oils are usually more flavoursome and shouldn't be used for frying or cooking at high temperatures.
An oils' quality is measured not only by its flavour and intended purpose, but also by its content of essential fatty acids and vitamins (e.g. vitamin E). Fats have a different content than oils.
Buy your oils and fats comfortably online
Choose one of GEFROs cooking oils or vegetable fat, or order one of our sets and be ready for everything in the kitchen. Choose our special rapeseed oil "GEFRO (Deep) Frying Oil" for frying. Try our Greek Extra Virgin Olive Oil for your salads.
For cholesterol-conscious cooking, we have our Omega-3 Cooking Oil. And for that extra flavour kick, choose our aroma oils.