Spice Blend "Pepper Mix with Garlic & Herbs"


Please select size and quantity:
*Inclusive VAT, excluding delivery costs (for orders under €49.90). In stock, approx. 5 - 8 working days delivery time Shipping.

DE-087-021

With an exquisite pepper mix
A spicy pepper mixture with a hint of star anise, chilli, some garlic and salt, with a fine selection of herbs. It's perfect for all fish and meat recipes, whether grilled, roasted, braised dishes or for sauces. For seasoning and marinating. For tasting and refining. Your meals will be given a pleasant savoury and spicy taste.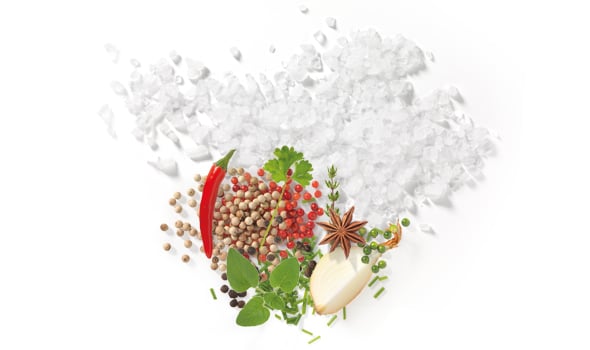 No colouring and
preservatives
Peppercorns in many varieties
Pepper is considered one of the world's oldest spices. With over approx. 700 varieties, it offers a stunning selection of flavours worth discovering. During the spice trade, the little peppercorns were so highly sought after that the price of pepper was weighed in gold. Starting from India, the cultivation of pepper spread to South-East Asia onwards to Indonesia and Malaysia. Brazil and Vietnam are also among the major pepper-producing countries in the world today.
Black pepper is considered the most pungent of its kind, whereas white pepper is somewhat milder and less sharp, and green pepper is a rather zingy, lip-tingling spice which goes well with hearty dishes. The term 'Pink peppercorns' refers to the fruit of the Brazilian pepper tree which is similar to a pepper plant. Its flavour is less pungent than black pepper and ranges from rather mild to aromatic to sweet and zesty.
Pepper Mix: the new seasoning highlight
Meat, fish, poultry, veal, lamb, side dishes, potatoes, salads and vegetables can all be seasoned with the popular spice. The desire to experiment with this racy spice can open up a whole new world of interesting flavours and possibilities. There are always new recipes to be found for pepper, even combining it with fruit or something sweet!
In GEFRO's premium ground pepper mixture, a variety of aromas unite to give way to a particularly intensive taste experience. Black, white, green and pink pepper ensure the perfect balance of spiciness, giving food a punch of spice and an interesting touch.
Garlic, star anise, spicy chillies, Mediterranean herbs such as oregano, basil, rosemary, thyme as well as marjoram, chives, onions and parsley round off the distinctly good taste of this blend of spices and ensure that this flavourful mix of pepper is more than just spicy. Enjoy a wide variety of dishes and discover the wide range of possibilities this racy pepper seasoning has to offer: full-bodied and savoury with a rump steak with a pepper-mustard crust, or pepper-lemon chicken, grilled tomatoes with goats' cheese and Pepper Mix or a delicious pepper steak with mushrooms from the grill bring some life into the barbecue. Pep up your soup repertoire with a savoury creamy leek soup with peppered tofu croutons. Order now! TIP: for an even finer distribution, simply use this blend in your pepper mill.