Organic Hollandaise Sauce
Organic Hollandaise Sauce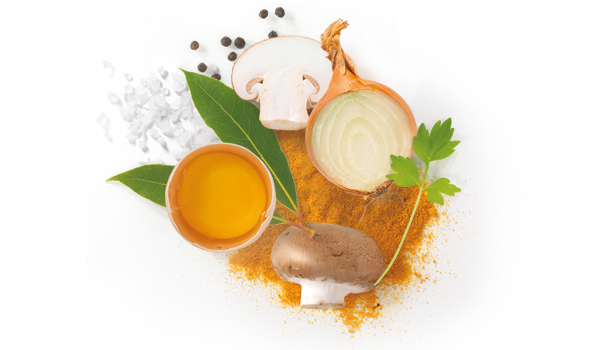 Please choose Quantity and Size
A match made in heaven: GEFRO ORGANIC Hollandaise Sauce goes perfectly with healthy, light vegetables, such as asparagus, cauliflower or broccoli. Fish dishes and pan-fried potato or rice dishes are perfectly complemented with this delicious, high-quality organic sauce.

Hollandaise sauce, mayonnaise and light, white buttery sauces belong to the group of emulsified sauces, referring to their emulsified mixtures of egg yolk and warm butter (warm emulsion) or oil (cold emulsion). In emulsions, immiscible substances, such as fat, butter and oil, are mixed with liquids, such as water, vinegar or stocks, in an attempt to bond them for as long as possible. Egg acts as an emulsifying agent in Hollandaise Sauce or Mayonnaise.
These sauces taste irresistibly good – sophisticated, delightfully creamy and rich. Yet, making one of these sauces, demands a lot of practice and skill. It's absolutely essential to follow the recipe if you want to make the sauce successfully.
GEFRO ORGANIC Hollandaise Sauce offers a fantastic alternative to such complicated sauce recipes. This delicious Hollandaise sauce is not only of the best organic quality but it takes little effort to make. To make three portions, take 34 g of powder (3 tablespoons) and add it to 200 ml of cold water, then whisk together. Afterwards, bring to a boil, stirring constantly. Remove the pot from the heat, add 100 g of fresh, chopped butter and stir it into the sauce until melted. Then enjoy!
The light, creamy consistency and its exquisite taste satisfies everyone's appetite. This delectable treat doesn't just top off magnificent vegetables such as asparagus. Broccoli, cauliflower, fish, chicken breast, meat and potatoes or even casseroles can also be perfected with its wonderfully rich flavour.

TIP: cook the asparagus in little water to better lock in the vitamins and micro-nutrients. Professionals chefs cook asparagus in special asparagus pots in which only the bottom portion of the asparagus is cooked in water, while the top part is left free to be gently steamed.
GEFRO ORGANIC – the best quality for high demands
In the light of current issues regarding resource conservation, intergenerational justice and sustainable production of food, it is becoming more and more important to consciously use resources and energy.
Living up to these changing demands in the area of food production logically means increasingly switching over to organic farming and the consumption of the resulting products thereof.
With our self-developed range of ORGANIC products, we gladly rise to these new challenges with conviction. It goes without saying that an environmentally friendly and animal friendly approach is a matter of course for us.
All ingredients used in our ORGANIC products come from organic farms. This means that in addition to producing organic grains, vegetables, etc., organic farmers also grow feed for their animals to consume and use their manure to fertilise their crops. They completely abstain from using synthetic pesticides and genetic modification. Animal welfare and environmentally friendly processes are also promoted in addition to organic farming.
All GEFRO ORGANIC products are inspected and certified, in accordance with EU Organic Regulations.
DE-ÖKO-003. EU/non-EU Agriculture.
Guaranteed quality
Vegetarian
Gluten free
No genetic modification
from organic farming
without palm fat
No colouring and preservatives
No artifcial flavouring
Easy to digest
Delicious, convenient, affordable
Preparation

To make three portions, whisk 34 g of powder (3 tablespoons) into 200 ml of cold water. Then bring to the boil, stirring constantly. Remove from the heat. Add 100 g of fresh butter chopped into pieces and stir it into the sauce until melted. Then enjoy!
Nutritional values
Ø Nutritional value per 100 ml sauce
= 11.2 g powder + 33 g butter
| | |
| --- | --- |
| Energy | 1188 kJ / 288 kcal |
| Fat | 28.3 g |
| of which saturates | 18.3 g |
| of which mono-unsaturates | 8.7 g |
| of which polyunsaturates | 1.3 g |
| Carbohydrate | 4.6 g |
| of which sugars | 3.5 g |
| Fibre | 0.7 g |
| Protein | 3.3 g |
| Salt | 1.20 g |
Ingredients
Skimmed milk powder*, egg yolk powder*, rice flour*, sea salt, yeast extract, thickener: guar gum*, cane sugar*, onion powder*, turmeric*, pepper*, mushroom powder*, lovage*, bay leaf*, maltodextrin*, sunflower oil*, acidifier: citric acid, spice extracts*.
* From controlled organic farming
DE-ÖKO-003 EU/non-EU Agriculture
Allergenic substances: eggs & egg products, milk & milk products
DE-ÖKO-003 EU/non-EU Agriculture
Hotline
+49 8331 9595 555
You can reach us from:
Mo. - Fr.: 8.00 - 18.00
Sa.: 9.00 - 12.00