Please select size and quantity:
*Inclusive VAT, excluding delivery costs (for orders under €49.90). In stock, approx. 5 - 8 working days delivery time Shipping.

DE-087-026

Fresh, herbal-savoury Aroma
Intensely flavoured herb and pine nut pesto with an abundance of piquant ingredients that give this pesto its herby and savoury flavour. Enjoy the diversity of this wonderfully flavoursome Herb-Pine Nut Pesto, with e.g. GEFRO High-Fibre Pasta, as a Mediterranean spread on bread fresh from the oven, in dressings for crunchy salads, or as marinades for fresh meat and fish, as well as to refine and season your favourite dishes. Its preparation is simple.
Preparation
Firstly, add 5 ml water (1 tsp) to 10 g powder (1 tbsp) and then add 15 ml oil (2 tablespoons). Mix well.
(No additional discounts valid on the Set of 3)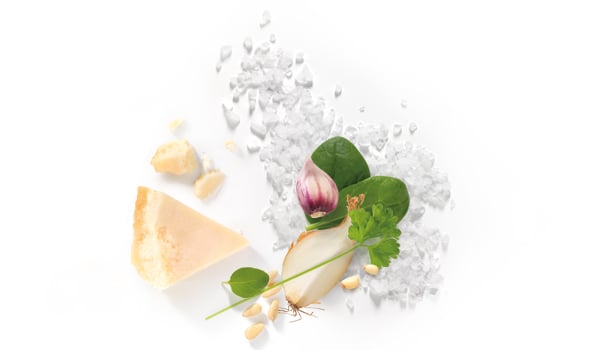 No colouring and
preservatives
A tasty classic, quickly prepared
Fresh basil leaves, chopped and roasted pine nuts, a lovely, aromatic olive oil (e.g. GEFRO Extra Virgin Olive Oil), grated hard cheese (usually pecorino or Parmesan cheese), garlic, a pinch of salt and maybe even some pepper are mixed together and ground in a mortar to make a pesto.With our full-flavoured pesto verde, we've reinvented the Genoese classic for you – just mix 10 grams of powder to water, then add GEFRO Extra Virgin Olive Oil, mix and enjoy!
For all those who like to spoil their family with their culinary skills, and who place value on healthy and high value products, GEFROs classic Pesto is a must have in the kitchen. Especially when time is of the essence – the aromatic Pesto Verde is unbeatable. Modern, quick cuisine and healthy foods are not on opposing sides – quite the contrary.
Valuable energy supplier for the human body
Gluten-free and with no added sugar or flavour enhancers, this authentic-tasting and healthy treat meets the requirements of a modern and healthy diet whilst also giving a taste kick to your dishes. Protein, carbohydrates and fibre make this appetising sauce a valuable source of energy your body.
Discover 2 other great products with GEFRO Pesto Rosso and GEFRO Pesto Funghi. Or simply order the Set of 3, for a great price.
TIP: why not try adding some grated cheese to the pesto, or sprinkle in some GEFRO Pepper Mix? It also tastes great when mixed with GEFRO Omega Seed and Nut Mix.