White Creamy Sauce
White Creamy Sauce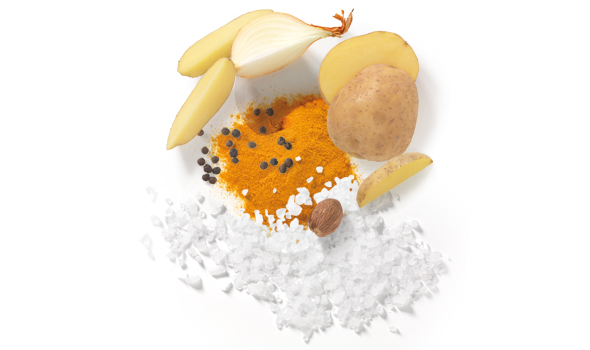 Please choose Quantity and Size
This light white sauce makes a perfect accompaniment to fish, tender meat, fine vegetables and noodles. With only 1.2 grams of fat to 100 ml, it is extremely light and easy to digest. Top it off with crème fraîche, sour cream, yoghurt, milk or fresh herbs – GEFRO White Creamy Sauce is always a success! For a change, why not try using curry or another exotic spice, horseradish, grated cheese or a splash of dry white wine. Mushrooms also go nicely with this sauce.
Tip: sauces can only thicken when they are briefly brought to a boil.
The new and improved recipe, which uses gluten free rice flour and high-fibre inulin instead of wholegrain wheat flour, turns every meal into a culinary gluten free delight bursting with even more flavour.
Order it now and try it yourself!
Food only tastes half as good without a sauce: commonplace knowledge in the world of award-winning cooking, which has led to sauce recipes and conventional preparation methods being revised and refined. The result: delicious, luxurious sauces which are not only extremely light but also easy to digest.
GEFRO White Creamy Sauce does more than just live up to this trend of using lighter sauces. Carefully made from a fine selection of vegetable ingredients and with only 0.16 grams of fat per 100 ml, this sauce is easy to digest and light: this lightweight will knock you out with its larger-than-life taste.
GEFRO White Creamy Sauce doesn't just make a tasty white sauce on its own right but is also great for thickening, seasoning and rarefying existing sauces – the existing stock or sauce's flavour is thereby retained and not overpowered.
Serve GEFRO's White Creamy Sauce with fish, tender white meat, all sorts of vegetables and noodles: let the 'gourmet' times roll! In addition to its delightful flavour, the quick and easy preparation of this fine GEFRO White Creamy Sauce makes it an essential part of any well-stocked pantry: add two tablespoons (approx. 30 g) powder to 1/4 litre water or warm milk, whisk, briefly boil and enjoy!
TIPS: depending on your taste, GEFRO's White Creamy Sauce can be complemented with crème fraîche, sour cream or yoghurt as well milk, fresh herbs or white wine.
For a boost of flavour and aroma, add freshly chopped herbs only at the very end.
Guaranteed quality
Vegetarian
Gluten free
Rich in fibre
Without hydrogenated facts
No genetic modification
No colouring and preservatives
No artificial flavouring
Easy to digest
Delicious, convenient, affordable
Preparation

As a sauce: add two tablespoons (approx. 30 g) to 1/4 litre warm water or warm milk, whisk, briefly boil and enjoy the tasty and light sauce.
GEFRO tip: use milk instead of water. The more milk you use, the creamier the soup will be – and with only a few calories.
To rarefy, thicken and season existing sauces, add milk or water, stir in the corresponding amount of GEFRO White Sauce, whisk and briefly bring to the boil.
Taste variations: GEFRO White Sauce makes a fabulous base for all white sauces! You can vary things with cream, herbs, curry, white wine, horseradish, cheese, onions, bacon, ham, capers, exotic spices, etc.
This sauce goes exceptionally well with vegetables, fish, beef and veal, meatballs, lasagne and casseroles. Soups and other soup dishes are given a smooth and rich consistency.
Important: always boil briefly!
Nutritional values
Ø Nutritional value per 100 ml sauce
= 10 g powder
| | |
| --- | --- |
| Energy | 172 kJ / 41 kcal |
| Fat | 1.2 g |
| of which saturates | 0.7 g |
| of which mono-unsaturates | 0.4 g |
| of which polyunsaturates | 0.1 g |
| Carbohydtrate | 6.4 g |
| of which sugars | 2.4 g |
| Fibre | 0.6 g |
| Protein | 0.8 g |
| Salt | 1.19 g |
Ingredients
Rice flour, dextrose, potato starch, palm oil**, sea salt, glucose syrup, inulin (dietary fibre from chicory), flavour enhancer: monosodium glutamate*, skimmed milk powder, granulated vegetable broth (seasoning (contains soy), palm oil, salt), yeast extract, spices, sunflower oil, modified starch, sugar, spice extracts.
* Production base: natural foods, such as sugar beet, maize.
** GEFRO requests guarantee from its suppliers that the supplied palm oil originates from sustainable agriculture. Corresponding certificates must be submitted.
Allergenic substances: soya & soya products, milk & milk products

Hotline
+49 8331 9595 555
You can reach us from:
Mo. - Fr.: 8.00 - 18.00
Sa.: 9.00 - 12.00