Organic "Spring Herbs Mix"
Please select size and quantity:
*Inclusive VAT, excluding delivery costs (for orders under €49.90). In stock, approx. 5 - 8 working days delivery time Shipping.

DE-087-120

Herbs, herbs, herbs!
The balanced, harmonious combination of aromas and flavours of finest herbs and spices in GEFRO's Organic "Spring Herbs Mix" enriches your meals with a natural, unmistakeable flavour that is reminiscent of a fresh herb garden. In finest GEFRO organic quality.
In this mix, classic herb aromas such as dill, parsley and chives meet highly aromatic Mediterranean herbs such as basil, rosemary and oregano.
The pungent flavour of marjoram mixed with the sweet, warm flavour of nutmeg, lovage's celery-like flavour and piquant garlic give this blend such finesse.
The unmistakable highly aromatic flavours of onions, pepper, ginger turmeric and sea salt round off this blend.
The savoury herby flavour gives salads, pasta and pizza, soups, anti-pasti, vegetables, potatoes, meat, marinades and dips that extra special touch.

Tip: by adding this herbal blend shortly before the meal is finished cooking, the full aroma remains intact.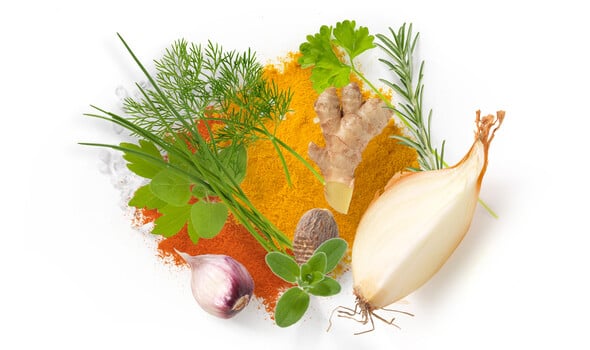 No colouring and
preservatives
A must-have – freshness of Spring in herbs and savoury spices
If you love the aroma of fresh seasoning and herbs, you should always have GEFRO's Organic "Spring Herbs Mix" close at hand when cooking for full herbal flavours in an instant.
This organic herbal blend is a special mix that delivers the aroma of fresh, fine Spring herbs whatever the season. No matter what you cook, GEFRO Organic Spring Herbs Mix refines your dishes with the great, intense flavour of fresh herbs and spices. Whether it's a fresh and crispy salad, a tasty cream cheese dip, pasta in a herby cream sauce, a delicious herbal soup, a hearty meat dish, savoury stew, or fresh vegetables.
Herb butter – tastes best homemade
Let's be honest – boiled potatoes, veggies sticks and fresh, crusty bread are only half as good without a good dip or flavoursome herb butter. GEFRO Organic Spring Herbs Mix has everything you need to make your very own herb butter.
Simply take the butter out of the fridge and allow to soften. Then, using a fork, squish it in a bowl and add GEFRO Organic Spring Herbs Mix to taste and your delicious herb butter is ready! It's perfect for barbecues, grilled or fried foods.
For a more elegant finish, simply place the herb butter on a sheet of baking or parchment paper and form into a roll and place it in the fridge to harden.
Spice blends – a fine art that needs experience
When composing a harmonious, tasteful spice blend, it is fair to say it is an art unto itself. It requires a high level of experience and knowledge abut herbs and spices, a keen sense of taste and a good portion of intuition when it comes to the amount of each ingredient to be used. If even one component doesn't perfectly suit the aromas and flavours of the other herbs and spices used in the blend, then the work would be in vain – the blend's flavour wouldn't be harmonious or balanced.
At GEFRO, we have obligated ourselves to fulfilling this fine art for decades and use all our knowledge and experience to create spice blends that allow you to easily enhance and bring out the best flavour of your home-cooked meals, without overpowering the ingredients' own flavours. We wish you happy cooking with our Organic Spring Herbs Spice Mix spice blend. Enjoy your meal!