Please select size and quantity:
*Inclusive VAT, excluding delivery costs (for orders under €49.90). In stock, approx. 5 - 8 working days delivery time Shipping.

DE-087-110

A southern American feast
Soya, plenty of kidney beans, sun-grown corn, tomatoes, sweet corn, onions, chilis and spicy herbs and spices make GEFRO Chili sin Carne a fiery, meat-free stew that tastes simply fantastic. Enjoy this vegan Chili as a meal in itself, enjoyed with crispy nachos, or combine this typical Tex-Mex meal with rice, vegetables, and potatoes. GEFRO Chili sin Carne is the perfect filling for tortillas, burritos, tacos, enchiladas and wraps.
Preparation
Using a whisk, add 3 heaped tablespoons (approx. 45g) to cold water
Simmer for 5 minutes and enjoy!
TIP: add some cream or vegan creamer to your chili for that special touch. Or if you like it extra hot, season with GEFRO's fiery spice blends Pepper Mix and Sweet Pepper & Chili!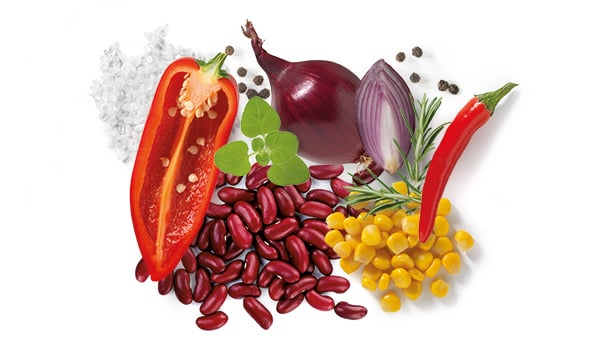 No colouring and
preservatives
Tex-Mex Cuisine – fiery, spicy, hot
This popular cuisine has its origins in Southern America and unites the best of two cooking worlds. Tex-Mex combines Mexican elements, with its Spanish influences and components from the Southwest American kitchen, creating this now highly popular cuisine. The dishes, that originated along the borderland between Mexico and Texas, are hot, spicy, usually consist of meat, poultry, corn, beans and hot chilis, and are honest fare. Garlic, onions, caraway and pepper are typical spices in this authentic cooking style.
Tortillas, tacos, nachos, salsa & Co. – folded or rolled, soft or hard
Corn flour or wheat flour are used to make the traditional pita bread, also known as tortillas. They are the basis for tacos, nachos, enchiladas and burritos. Tortillas are usually eaten either filled and folded, or more classically, filled and rolled up. The filling consists of whatever the kitchen has to offer- whatever the heart desires. Try a wrap with a vegan Chili con Carne or a fish wrap with prawns in a coriander-tomato sauce. Of course, when cooking Southern American cuisine, nachos cannot be missing. The crunchy baked tortilla chips are a much-loved snack- usually enjoyed with melted cheese and served with a salsa. Equally indispensable are tomatoes, savoury barbecue sauces and fiery salsas. They add that unmistakeable touch to grilled meats and vegetables. Enchiladas, burritos and empanadas, whether filled with meat, or vegetarian, also love these savoury and spicy sauces.
Chili – Tex Mex's most loved and best-known dish
We all know chili with meat, aka con care. Minced meat, onions, sweet corn, beans and tomatoes are the main components of this spicy classic. Discover how delicious this traditional dish can be without meat, with GEFRO Chili sin Carne
Blissfully meat-free with GEFRO Chili sin Carne
Gently made from vegetable-based ingredients and easy to digest – GEFRO's Chili sin Carne is right on trend with the current vegan lifestyle and diet. Kitchen beginners as well as advanced hobby cooks will be delighted by the convincingly good flavour and how easy it is to prepare this meat-free Chili.