Please select size and quantity:
*Inclusive VAT, excluding delivery costs (for orders under €49.90). In stock, approx. 5 - 8 working days delivery time Shipping.

DE-087-017
Fine herb blend, superbly aromatic!
This spice is just the thing for all those who appreciate the taste and aroma of fresh herbs and who always want to have them readily available. GEFRO Herb Seasoning contains everything that a herb garden could ever offer. The only difference: GEFRO Herb Seasoning is available all year round.
Preparation
The refined blend of spices adds flavour to salads, vegetables, fish, poultry, meat, cream cheese as well as egg and pasta dishes. Use instead of common salt.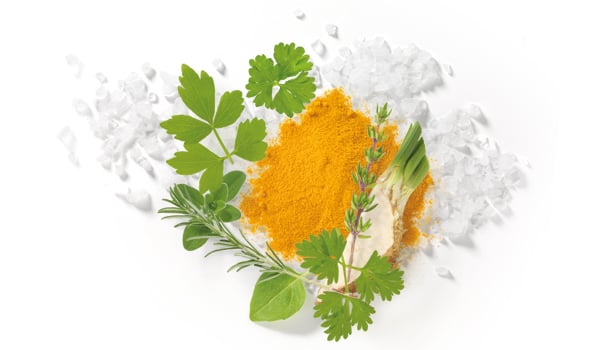 No colouring and
preservatives
Helpful herbs
Since ancient times, humans have been blending herbs and spices to bring out their flavour even more or to make them palatable in the first place. It didn't take long for almost every culture to discover the mysterious powers of certain roots, seeds, plants and herbs, which are medicinal, partially soothing or even stimulating.
Medicine men, shamans and druids were admired and revered for their knowledge. One of the best-known 'medicinal herbalists' is undoubtedly the famous nun Hildegard von Bingen. She documented her expertise on the medical effects of herbs and medicinal plants in detailed treatises. Only at the beginning of the High Middle Ages, during the late 15th Century, did people begin to increasingly use herbs and spices to prepare and enhance the flavour of tasty dishes.
It's therefore no surprise that nowadays star chefs plant their own herb gardens in order to have seasonally fresh and flavoursome herbs on hand, which they can use to give their lavish dishes that 'extra something special'. Even outside the world of top-notch catering, it's a known fact how fine herbs and spices can have flavourful effects on all kinds of food. The pleasure of experimenting with different aromas has also found its place in the common kitchen. Apart from offering fantastic flavour possibilities, herbs have always been known to have certain therapeutic benefits. They can make food healthier, easier to digest and more appetising. Garlic, for example, supposedly strengthens the immune system. Basil helps to stop bloating and fennel is soothing on the gastrointestinal tract.
Our little herb garden
We at GEFRO have developed a seasoning bursting full of wonderful flavour – like an odyssey right through the diverse world of herbs and spices. Turmeric, pepper, garlic, curry, marjoram, lovage, thyme, basil, rosemary, chervil, mugwort, celery – with GEFRO Herb Seasoning, everything tastes as if it comes straight from the herb garden. All year round, no matter the season ...
The fine, light seasoning made from plant-based ingredients adds zest and tops off fish, poultry, meat, salads, vegetables or egg and pasta dishes. A yummy herbal cream cheese spread seasoned with GEFRO Herb Seasoning can be served up in no time.