Please select size and quantity:
*Inclusive VAT, excluding delivery costs (for orders under €49.90). In stock, approx. 5 - 8 working days delivery time Shipping.

Rapeseed oil, mild and cold-pressed
The high content of polyunsaturated and valuable omega-3 fatty acids as well as vitamin E make our cold-pressed Omega-3 Cooking Oil so beneficial. It's perfect for cholesterol-conscious cooking, for salads and raw fruit and vegetables as well as for cooking, steaming and stir-frying up to 180°C.
From the first pressing
Not extracted
Not bleached
Produced without genetic engineering
Exemplary distribution of lipids:
low in saturated fat
rich in mono-unsaturated fatty acids
balanced amount of polyunsaturated acids
ideal nutritional ratio of omega-6 to omega-3 essential fatty acids
(No additional discounts valid on the set offer)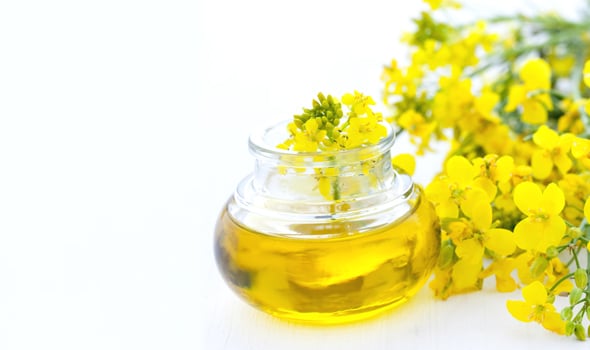 No colouring and
preservatives
Liquid Gold
For delicious results, even for the cholesterol-conscious. The high content of polyunsaturated fatty acids and valuable omega-3 fatty acids makes this mild, cold-pressed rapeseed oil a real hit in all kitchens. Omega-3 fatty acids are especially valuable from a nutritional point of view: they play an important role in the body and can positively influence blood fat levels and the cardiovascular system.
The golden liquid has an exemplary distribution of lipids, with a very low content of saturated fatty acids and an ideal ratio of omega-3 to omega-6 fatty acids. GEFRO Omega-3 Cooking Oil forms the daily base of a balanced diet by providing just the right amount of fat.
This gourmet oil is a permanent part of any health-conscious diet, thanks mainly to the relatively high proportion of the fat-soluble vitamin E – an important antioxidant that protects cells against so-called 'free radicals' and that can also revitalise cell metabolism. It's not only the particular combination of ingredients that makes this oil so beneficial, but also the fact that GEFRO's Omega-3 Cooking Oil is easy to digest and can be used in a number of ways.
A delicious elixir for all cuisine
It has a mild, nutty flavour which is characteristic of cold-pressed rapeseed oils, but also can be used to add flavour to food without overwhelming the fresh ingredients.
A delicious treat for all cooking disciplines. GEFRO Omega-3 Cooking Oil can be used in a number of ways: for salads, raw vegetables, vinaigrettes, marinades and dips, for cooking, baking, steaming and stir-frying up to 180°C. It is particularly suitable for dishes which should be neutral in taste and odour.