Gourmet Cream of Vegetable Soup


Please select size and quantity:
*Inclusive VAT, excluding delivery costs (for orders under €49.90). In stock, approx. 5 - 8 working days delivery time Shipping.

DE-087-014
With a satisfying 42% vegetables
Et voilà: a creamy, delightful soup straight from the vegetable garden: broccoli, carrots, cauliflower, peas, onions, potatoes, celery, leeks: made from amazing 42% vegetables, the sensational GEFRO Gourmet Cream of Vegetable Soup gets its unmistakably pure and creamy, light vegetable flavour from its gently processed contents. The soup is easy to digest and is also wonderful as a base for home-made vegetable soups and sauces.
Tip: well-suited as a base for home-cooked vegetable soups.
Preparation
Add 60 g powder (3 heaped tablespoons) to half a litre of warm water, bring to the boil, simmer for approx. 5 minutes, stirring occasionally. Soon the fine and delicious Gourmet Cream of Vegetable Soup will be ready to enjoy.
TIP: use some milk (e.g. skimmed milk) instead of water. The more milk you use, the creamier the soup will be with only a few calories more.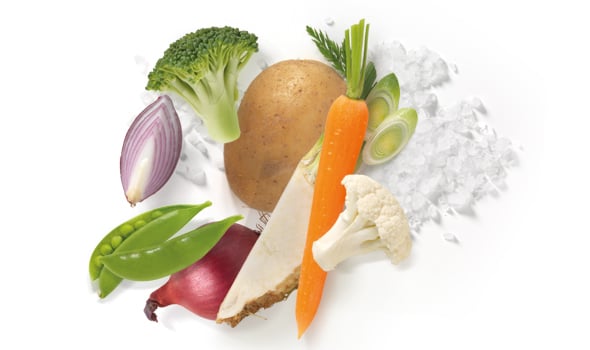 No colouring and
preservatives
Creamy-light joy
Cream soups are considered the crowning achievement of good-tasting soups. And if they've got that creamy, light taste then they're absolutely mouth-wateringly delicious. This incomparable creamy taste occurs with béchamel sauce, for example, or when cream is added to the soup once the main ingredients (e.g. vegetables or fish) have been chopped and puréed and then cooked with stock (e.g. GEFRO Vegetable Bouillon & All-round Seasoning).
In order to enjoy the full flavour of cream, but without all the fat, we developed a special vegetarian 'cream' for our Gourmet cream soups. In other words, a rich and smooth taste without the high-fat cream – for pure indulgence without the guilt.
A wealth of vegetables
We've captured the taste of crisp, fresh market vegetables in our cream of vegetable soup. Broccoli, carrots, cauliflower, peas, onions, carrots, celery and leeks combine in this delectable cream soup to create a wonderfully aromatic taste sensation – no artificial or nature-identical flavouring!
The high content of vegetables (42%) doesn't only guarantee the distinctive good taste of fresh veggies but also meets the highest demands of a healthy and light diet. A gentle manufacturing process makes the delicious, vegan Gourmet Cream of Vegetable Soup easy to digest.
In addition to being quick and easy to prepare, the amazing and authentic good taste of fresh vegetables makes our Gourmet Cream of Vegetable Soup an absolute highlight that blends well with other well-known classics: for the Spanish, nothing else compares to their highly beloved and cold-served gazpacho which originally comes from the province of Andalusia; for the Italians, however, it's the divine minestrone – a vegetable soup with noodles and rice. Both varieties of soup have long since made their way into international cuisine and also enjoy great popularity in other parts of the world.
Vegetable Soup for hot summer days
A gazpacho is made out of raw vegetables, with one half of the veggies being puréed and mixed with water or vegetable broth and the other half being diced into small cubes. A cold soup makes a remarkably refreshing meal and is extremely delicious especially during the warm months of the year. On really hot days, just cool the soup in the refrigerator for a couple of hours before serving. The delightful GEFRO Gourmet Cream of Vegetable Soup is the perfect choice for this cold delicacy.
One vegetable soup for many occasions
The delicious GEFRO Gourmet Cream of Vegetable Soup is ideal for whipping up 'a quick warm meal for lunch', either as a nutritious meal on its own or as a small snack. It's also an exquisite way to start a multi-course meal – when and where you want to enjoy this delectable soup is up to you. Bon appétit!
The versatile cream of vegetable soup is also suitable for refining sauces or for making a base for home-made soups. All it takes is a little powder to add intense flavour to vegetable dishes.
TIP: if you use part milk (e.g. low-fat milk) instead of using water when making GEFRO cream soups, they'll turn out even creamier and richer.