Please select size and quantity:
*Inclusive VAT, excluding delivery costs (for orders under €49.90). In stock, approx. 5 - 8 working days delivery time Shipping.
Handmade and gently produced!
Luscious forest honey and the mild sweet flavour of blossom honey unite to form the effervescent and flavourful taste of GEFRO's Forest and Blossom Honey.
The forest honey used is very dark in colour as well as rich, exciting and full-bodied in taste. The blossom honey on the other hand balances this richness with its lightness and the subtle flavour of an entire sea of flowers. Thanks to the high concentration of forest honey, GEFRO Forest and Blossom Honey remains liquid for a long time.
Tip: crystallised honey can be made spreadable once again by carefully heating up the jar in a little water.
Please note: no additional discount possible on already reduced set prices.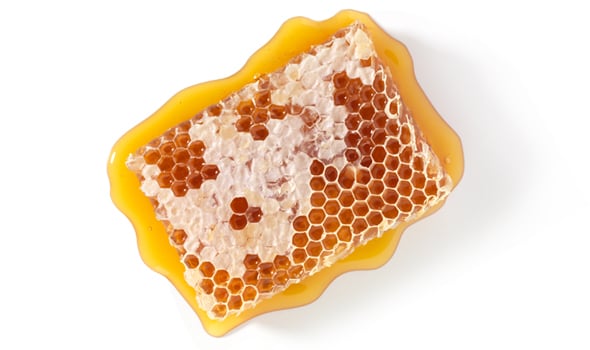 No colouring and
preservatives
Collected by busy bees
Sweet honey has been a popular natural food since time immemorial and is nature's only completely natural sweetener. The precious nectar, from which this delicious treat is made, is literally collected by busy bees.
The coveted, sugary sweet is created when the bees add their own secretions to the collected nectar or honeydew and change its structure in their own bodies before depositing the sticky substance in the honeycomb and leaving it there to mature.
Sweet, light, blossom honey consists of nectar which honeybees gather from various plant flowers. The dark, aromatic and flavourful forest honey is produced from so-called honeydew, which is created by insects that feed off the liquid produced by plant sieve tubes. This sugary honeydew is gathered and processed into honey by bees in the hive.
In GEFRO's Forest and Blossom Honey composition, both types of honey combine to create a very special and aromatic taste sensation. The wonderfully mild and sweet aroma of blossom honey blends smoothly with the dark, tart and tangy forest honey that is characterised by a robust and full-bodied flavour.
Apart from the honey's great taste, it is also very nutritional.
Forest honey is very high in natural sugar, minerals (potassium, calcium, sodium, magnesium, iron, copper, manganese) and enzymes. Glucose, vitamin C as well as antibiotic substances, so-called inhibines, are also present in honey. The high content of glucose in honey can work wonders in providing new energy after exercising. GEFRO's sweet delicacy is a pure, natural product, made without any genetically modified products or any preservatives, artificial and nature-identical flavourings.
Natural alternative to conventional sugar
GEFRO Forest and Blossom Honey is not only a delicious spread but is also a great natural alternative to conventional sugar in cooking, baking and making sweet desserts. With this sweet Bavarian speciality, you can subtly sweeten salad dressings as well as morning cereals or natural yoghurt. Sweet and sour Asian dishes and sauces made with game are made even tastier and more delightful with GEFRO Forest and Blossom Honey. GEFRO Forest and Blossom Honey adds that special something to honey marinades for fish and meat dishes that's enough to make even gourmets go wild.
Discover how good this honey tastes with berry muesli and sunflower seeds, or pear-honey whey drink with elderflower juice, or with fresh salad with fried scallops and bacon.
TIP: crispy on the outside, nice and juicy and tender on the inside – add a little GEFRO Forest and Blossom Honey to roasting poultry just before it finishes cooking. The skin will get really crispy and crunchy.
Store GEFRO Forest and Blossom Honey in a dry place and in a sealed container.