Tomato Sauce & Soup
Tomato Sauce and Soup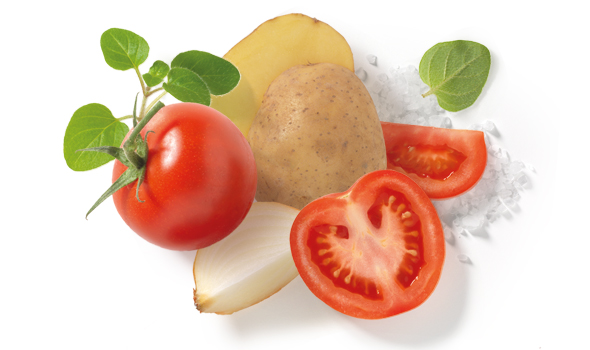 Please choose Quantity and Size
Anyone who's ever made their own tomato sauce knows just how much work this takes. The tomato sauce and soup from GEFRO however is much less work, but tastes as if it has been homemade. Simply add it to warm water and stir, then slowly bring it to a boil and enjoy! Top it off with just as much cream, milk or fresh Mediterranean herbs as you like.
The new and improved recipe, which uses gluten-free rice flour and high-fibre inulin instead of wholemeal wheat flour, turns every meal into a culinary gluten-free delight bursting with flavour.
Order it now and try it yourself!
It's Christopher Columbus we have to thank for bringing the vitamin-rich and mineral-rich tomato to Europe. The luscious red fruit is one of the most popular foods today and is available in an incredible array of varieties and flavours. From beefsteak tomatoes, wild tomatoes, vine tomatoes and mini tomatoes, such as cherry tomatoes, snack tomatoes or cocktail tomatoes, the selection just goes on and on. 2,500 different varieties are known worldwide. They vary in colour – from red, white, yellow, green to brown or even black.
Depending on the variety, tomatoes can taste fruity and aromatic to savoury, somewhat sour or even very sweet. Whether it's this summer fruit's excellent taste or the mood-enhancing tyramine (a naturally occurring compound produced from the amino acid 'tyrosine' in the ripening process), it's said that tomatoes make you happy ...
On this note, we hope you enjoy our GEFRO Tomato Sauce and Soup – its lovely red colour is a vivid sensation on its own, also making it an extremely popular choice among kids. To top this all off, it also has the fruity, sweet-sour flavour of ripe tomatoes, refined with an exquisite mixture of herbs and spices.
GEFRO Tomato Sauce and Soup meets the nutritional requirements of a healthy and light diet at the highest level. With only 0.3 grams of vegetable fat per 100 ml, this vegan soup can also be used as a sauce – a welcome guest in any health and calorie-conscious kitchen.

In order to let the full, natural flavour of tomatoes perfectly unfold, no artificial or natural flavourings are used in the production of this versatile taste sensation. The carbohydrates contained in GEFRO Tomato Sauce and Soup are an important source of energy and the high dietary fibre content will keep you feeling full longer.

It's no wonder that a steamy, hot bowl of tomato soup is a popular, well-balanced meal; especially at lunchtime, when things have to be prepared quickly. The soup can be served with accompaniments such as rice, croutons, noodles or Mediterranean ingredients like seafood or capers. An absolute insiders' tip: a cold tomato soup on hot days – it's delightfully refreshing and absolutely delectable!

When used as a sauce, the #1 choice of adults and children is spaghetti with tomato sauce – this unbeatable classic can be served up quickly and easily with GEFRO Tomato Sauce and Soup. Try it for your next children's birthday party or on any other day, just because it tastes so great ...
TIP: the fresh and fruity smell of this delicious tomato sauce superbly complements rice, goulash and minced meat dishes just as much as it does fish dishes. It's also great as a tasty topping on a classic pizza.
Guaranteed quality
Vegan
Lactose free
Gluten free
Rich in fibre
Without hydrogenated fats
No genetic modification
No colouring and preservatives
No artificial flavouring
Easy to digest
Delicious, convenient, affordable
Preparation
1. As a soup: add two tablespoons (approx. 30g) of powder to 1/2 litre of warm water, whisk, briefly boil and enjoy!
Your can refine the soup with milk, cream of fresh herbs, as desired.

2. To rarefy, thicken and season: add milk or water to existing sauce, stir in the corresponding amount of tomato sauce,
whisk and briefly bring to the boil.

3. Taste variations: you can modify the fruity, well-balanced taste of tomato sauce by adding
onions, oregano, thyme, chives, capers, cream, etc. as you like.
4. GEFRO Tomato Sauce goes well with spaghetti, pasta, rice, fish, mince meat, filled peppers, escalope,
veal cutlets and vegetables.

5. As a sauce: add two tablespoons (approx. 30g) of tomato sauce to 1/4 litre warm water, whisk, briefly boil and enjoy!

GEFRO tip: Use milk instead of water.
The more milk you use, the creamier the soup will be – and with only a few calories.
Nutritional values
Ø Nutritional value per 100 ml
Sauce = 12 g powder / Soup = 6 g powder
| | | |
| --- | --- | --- |
| | Sauce | Soup |
| Energy | 154 kj / 36 kcal | 79 kj / 19 kcal |
| Fat | 0.3 g | 0.2 g |
| of which saturates | 0.1 g | 0.0 g |
| of which mono-unsaturates | 0.2 g | 0.0 g |
| of which polyunsaturates | 0.0 g | 0.0 g |
| Carbohydrate | 6.6 g | 3.3 g |
| of which sugars | 3.5 g | 1.7 g |
| Fibre | 1.3 g | 0.6 g |
| Protein | 1.1 g | 0.6 g |
| Salt | 0.82 g | 0.41 g |
Ingredients
35% tomato powder, potato starch, sugar, rice flour, granulated vegetable broth (seasoning (contains soy), palm fat, salt), inulin (dietary fibre from chicory), onion powder, dextrose, flavour enhancer: monosodium glutamate*, sea salt, herbs, spices, sunflower oil, beetroot powder, acidity regulator: citric acid, potato flakes.
* Production base: natural foods, such as sugar beet, maize.
Allergenic substances: soya & soya products

Hotline
+49 8331 9595 555
You can reach us from:
Mo. - Fr.: 8.00 - 18.00
Sa.: 9.00 - 12.00