Please select size and quantity:
*Inclusive VAT, excluding delivery costs (for orders under €49.90). In stock, approx. 5 - 8 working days delivery time Shipping.

DE-087-101
"Energy boost" from purely natural ingredients
An abundance of vitamins, minerals, omega-3 fatty acids and 10% chia seeds make our "superfood" a must-have food for everyone who places importance in a balanced diet and desires a purely natural "energy boost".
The crunchy Omega Seed and Nut Mix can be diversely used: it tastes great as a snack, when on-the-go, or before and after sport. You will not only love this energy-giving power mix of sunflower seeds, linseeds, hemp seeds and chia seeds, pine nuts and golden linseed as an aromatic snack.
The naturally nutritious "superfood" seed mix is the perfect addition to bread doughs, is a treat in yoghurts, muesli, porridges and enrichens salads, ice cream or other desserts (such as Panna Cotta, Pudding, fruit cakes), clear broths, cream soups, fish and pasta dishes, as well as potatoes and other vegetables.
Tip: intensify the flavour and make the Omega Seed and Nut Mix even crunchier by lightly roasting it.
Preparation
Simply sprinkle onto desired product, as wished. Can also be added to doughs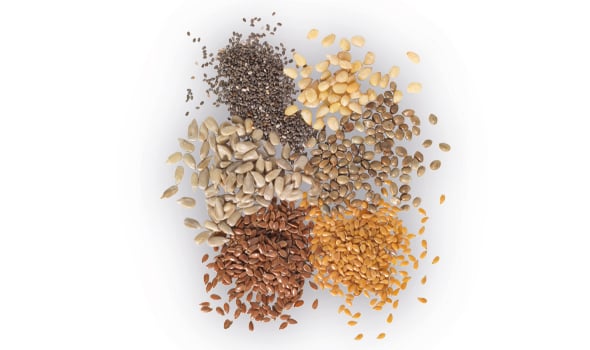 No colouring and
preservatives
Perfect nutrient supply
The term "superfood" stands for food made from natural ingredients that have a high content of vitamins, minerals and antioxidants.With our Omega Seed and Nut Mix, you enrich your pantry with a natural food product that fulfils the high demands of modern, health-conscious and vegan diets.
Rich in vitamin E, the natural cell protection par excellence and magnesium which plays a key role in metabolic process. Our Omega Seed and Nut Mix contains also many vital mineral nutrients such as potassium, calcium, phosphorus. Other essential trace elements such as iron, zinc, copper and manganese complete the nutrient supply.
Chia seeds contain a whole range of antioxidants that are said to have a cell protecting effect in the body. In South and Middle America, chia has for many years been treasured as a filling staple that gives mental and physical strength. The chia plant, which belongs to the genus of sage plants, was already of great importance for the Mayas and Aztecs as long as 5000 years ago.
Fine, mild sunflower seeds deliver important vitamins and minerals to the body, as do the aromatic pine nuts.
Flax is one of the oldest cultivated plants in the world. Its seed, the linseed, contains mucilage that promotes digestion and a positive, soothing effect on irritated stomach and intestinal linings. Golden linseed has a higher content of Omega-6 fatty acids than brown linseed and it also has a higher swelling capacity.
Increase your feeling of well-being
Improve your well-being with GEFRO's Omega Seed and Nut Mix and enjoy the delicious flavour of this valuable "superfood" seed mix. You also increase the Omega-3 fatty acid, vitamin and mineral content of your dishes with this product.