Organic Spice Blend "Bella Italia"

Please select size and quantity:
*Inclusive VAT, excluding delivery costs (for orders under €49.90). In stock, approx. 5 - 8 working days delivery time Shipping.
Enjoy like a true Italian!
Not much needs to be said about Italy and its Mediterranean cuisine. GEFROs ORGANIC Spice Blend 'Bella Italia' itself also needs little explanation- it lives up to its name. Genuine Italian gourmet moments are made possible thanks to a hint of garlic, thyme, marjoram, basil, oregano and rosemary.
The seasoning goes well with pizza and pasta and, of course, with tomato caprese!
(No additional discounts valid on the Set)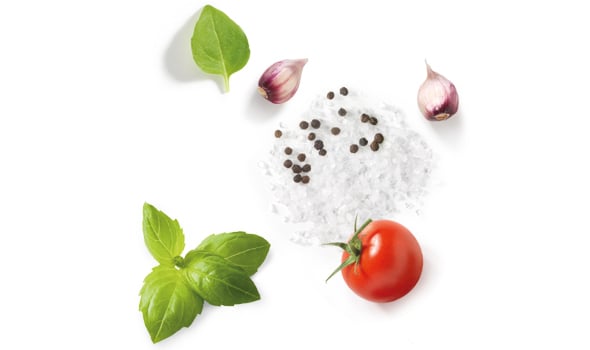 No colouring and
preservatives
Culinary highlights
Italy – the country greatly associated with that light feeling of summer, sun, azure-coloured waters and holiday treasures – offers such a wide variety of culinary pleasures. It's no wonder that the Italian food culture is one of the most beloved and famous. The famous 'la dolce Vita' (the sweet life) isn't just reflected in the Italian lifestyle but also in Italian kitchens. The simple manner in which products are used, trusting your senses when cooking, reflects a pure joy of eating and results in delicious masterpieces.Across the nation, chefs and hobby cooks alike take joy in experimenting with the aromas of typical Italian spices and herbs, such as basil, oregano, rosemary, thyme or garlic. In Sicily, cloves, pepper, cinnamon, saffron, nutmeg, apricots, citrus fruits and sweet melon also belong to the essential ingredients, whereas cooking without myrtle and mint in the modest and simple cuisine of Sardinia is unimaginable.
From north to south, a special delicacy awaits in every region of this country that is characterised by the lust for life and friendship: Naples in Campania is famous for inventing pizza, in particular, pizza margherita. Various kinds of pasta originate from the pasta paradise of Emilia-Romagna, always prepared with an irresistibly good pesto, as well as with the most lavish of all vinegars, the Aceto Balsamico tradizionale.
San Daniele del Friuli and Parma are most renowned for divinely good prosciutto. Piedmont is home to flavourful Gorgonzola. Parmigiano Reggiano started its triumphal march into the kitchens of expert chefs and hobby cooks from Reggio Emilia. Friuli provides us with special drinks such as Grappa, Pinot Grigio (Pinot Gris), Chardonnay, Sauvignon Blanc and Merlot. Romantic Tuscany is world-famous for its olives. Calabria is considered the heartland of delicious aubergine dishes, whereas in Sardinia, seafood and fish are taken from three different seas. Sweet temptations, such as tiramisu from Veneto or panna cotta from north Italy, have long since been international favourites, especially when it comes to having dessert with that special Italian taste.
Light, Mediterranean Cuisine
The light, zesty cuisine of the Mediterranean however is not only known for its excellent regional products – it's also known for having certain health benefits: fish and seafood contain important protein. Fresh fruit and vegetables are great sources of vitamins. Pasta is full of carbohydrates and is therefore a valuable source of energy. Using olive oil which is rich in phenols helps protect against heart and cardiovascular diseases.
Fans of this light, healthy and tasty cuisine will experience a real treat thanks to the genuine taste of GEFROs ORGANIC Spice Bland 'Bella Italia'. This seasoning's organically farmed ingredients give food a unique Mediterranean flavour – all in one go, without having to mix several herbs yourself in order to find the right balance of herbs and spices. Tomatoes, onions, peppers, oregano, basil, pepper, garlic –the fresh scent of herbs contained in this authentic seasoning made of veggies and spices alone promises a real Mediterranean delight.
'Bella Italia' doesn't just add this wonderful, summery Italian flavour to pasta dishes but also to casseroles, rice dishes, pizza, meat, sauces, dips, salads or tomatoes with mozzarella. TIP: add the seasoning to warm dishes towards the end to better preserve the aromatic power and flavour of the herbs.
GEFRO ORGANIC – finest quality for the highest demands
In the light of current issues regarding resource conservation, intergenerational justice and sustainable production of food, it is becoming increasingly important to use resources and energy more consciously.
Living up to these changing demands in the area of food production logically means increasingly switching over to organic farming and the consumption of the resulting products thereof.
With our self-developed range of ORGANIC products, we gladly rise to these new challenges with conviction. It goes without saying that an environmentally friendly and animal friendly approach is a matter of course for us.
Organic by conviction
All ingredients used in our ORGANIC products come from organic farms. This means that in addition to producing organic grains, vegetables, etc., organic farmers also grow feed for their animals to consume and use their manure to fertilise their crops. They completely abstain from using synthetic pesticides and genetic modification. Animal welfare and environmentally friendly processes are also promoted in addition to organic farming.
All GEFRO ORGANIC products are inspected and certified, in accordance with EU Organic Regulations. DE-ÖKO-003. EU/non-EU Agriculture.