Gourmet Cream of Leek Soup


Please select size and quantity:
*Inclusive VAT, excluding delivery costs (for orders under €49.90). In stock, approx. 5 - 8 working days delivery time Shipping.

DE-087-016
The Creme de la Creme!
The rich, luscious aroma of leek plus a light and creamy taste: until now this combination was only possible with the help of a lot of heavy cream. For our Gourmet cream soups, we especially developed a vegetable-based 'creamer' to guarantee an intense, creamy taste! In other words, a rich and smooth taste without the high-fat cream – for pure indulgence without any of the guilt. It's also wonderful for thickening soups and stews. As with all our products, the carefully selected ingredients are processed in a gentle manner.
In Wales – the country in Great Britain boasting breathtakingly gorgeous and wildly romantic landscapes not to mention countless lakes and castles and where hauntingly beautiful tales of fairies, the legendary King Arthur and Merlin the Wizard are told – leek is still considered a national symbol, even today.
Preparation
Add 50 g powder (3 heaped tablespoons) to half a litre of cold water, bring to the boil and simmer for approx. 3 minutes, stirring occasionally. Soon the fine and delicious Gourmet Cream of Leek Soup will be ready to enjoy.
TIP: use some milk (e.g. skimmed milk) instead of water. The more milk you use, the creamier the soup will be with only a few calories.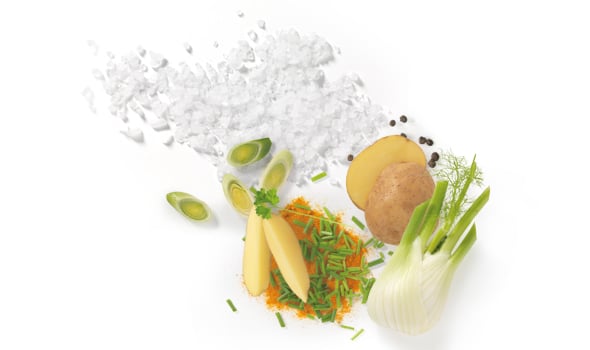 No colouring and
preservatives
The flavoursome all-rounder
Gourmets love and appreciate leek, not only because of its savoury and intense flavour, but also because it is incredibly versatile. This very tasty vegetable, which most likely made its way to us from the Mediterranean, can be prepared and used in a number of different ways. Served cold, it adds pep to salads with its distinct, typical flavour. As a warm, steamed vegetable, it makes an ideal side and refines any fish, meat, noodle or potato dish with its fine aroma.
Sauces, stews and casseroles are also infused with added flavour and given a touch of sophistication thanks to the distinct aroma of leek, which both chefs and gourmets alike adore.
It is also used as a herb in cooking – combined with celery and carrots, it is popularly used as a mirepoix for soups and stocks. Another special treat is when it is used to make a delicious and exquisite cream soup.
Savoury, creamy and light
This extraordinary taste experience can be yours thanks to GEFROs vegan Gourmet Cream of Leek Soup, which contains no artificial or nature-identical flavouring. A pure-tasting, gluten free, lactose free, vegetarian soup. The carefully selected ingredients, such as leek, potatoes, shallots, onions and fennel, are gently processed and are very easy to digest. The fantastically good flavour of this cream soup tantalises your taste buds to the utmost degree. GEFRO Gourmet Cream of Leek Soup is a veritable taste sensation and versatile food seasoning.
TIP: GEFRO Gourmet Cream of Leek Soup is also suitable for perfecting delicious sauces and vegetables. Broccoli, carrots or naturally leeks too – with just a pinch of GEFRO Cream of Leek Soup, you can infuse the distinctive and pungent taste of leek into sauces and all vegetable side dishes.
Did you know that even today, the Welsh wear leek emblems on their collar, lapel or hat on St David's (1st March)? – according to legend, St David, the Bishop of Menevia and Patron Saint of Wales advised the Welsh to wear leeks in battle against the Saxons in order to better distinguish friend from foe – King Arthur and his men emerged victorious from their battle against the Anglo-Saxons at the Battle of Badon Hill. From that moment on, King Arthur dedicated himself to establishing peace and founded the 'Knights of the Round Table'