Please select size and quantity:
*Inclusive VAT, excluding delivery costs (for orders under €49.90). In stock, approx. 5 - 8 working days delivery time Shipping.

DE-087-019
The seasoning for every salad
What's a fresh, crisp salad without the dressing? Just add some vinegar, oil and water to the GEFRO Salad Seasoning and enjoy! Use lemon, yoghurt, cream or sweet whey powder for added flavour, if you desire. GEFRO Salad Seasoning contains no acidifiers so you are free to use whatever vinegar you like.
Preparation
Use vinegar, oil and water as usual and add GEFRO Salad Seasoning to add flavour. Variations with fresh herbs, onions, cream and yoghurt are also delicious. We also recommend using GEFRO Sweet Whey Powder to sweeten things up.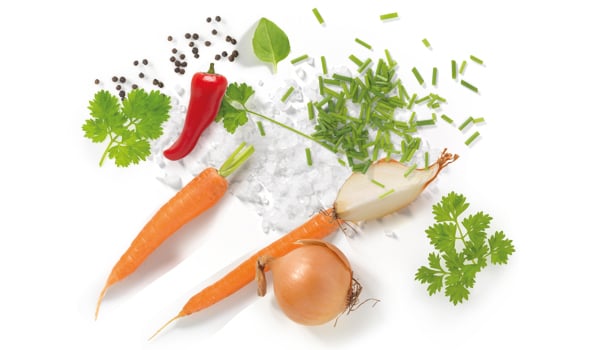 No colouring and
preservatives
Fresh herb flavour
Parsley, chervil, basil, chives, dill and spices – the flavourful seasoning, which can be used in a number of ways, infuses the wonderfully fresh flavour of herbs into salad dressings and other dishes, by boosting and not overpowering the flavour of existing ingredients!
TIP: this seasoning is also a great enrichment to fish dishes and herb cream cheeses.
The right dressing for perfect salad delight
When making vinaigrettes, there are no limits to the fantastic creations you can conceive! Whether it's a traditional oil and vinegar dressing with salt and pepper, topped off with fresh herbs and lemon juice, mixed with yoghurt or cream, or enhanced with GEFRO Forest and Blossom Honey or GEFRO Sweet Whey Powder, the sky is the limit!
Perfect your salad seasoning
In addition to using the right seasoning, selecting the right vinegar is essential to a good salad dressing. With an impressive variety of flavours available, everyone can find the right vinegar to suit their taste. The selection ranges from a mellow fruit vinegar to white wine vinegar, red wine vinegar to sherry vinegar right up to exotic-flavoured varieties, such as basil, orange & lemon vinegar, wild garlic vinegar or pomegranate aperitif vinegar.
The most famous vinegar appreciated by gourmets and known as the best in its class is nevertheless the popular 'Aceto Balsamico tradizionale'. Production of the vinegar starts with white Trebbiano grapes from the Italian regions of Modena and Reggia Emilia – depending on the origin, the vinegar is either named 'Aceto balsamico di Modena' or 'di tradizionale Reggia Emilia'. The original aceto balsamico tradizionale is aged for a minimum of 12 years and a maximum of 30 to 50 years! Only when it has been aged does the vinegar develop its balanced good taste, which is endowed with a whole host of subtle flavours – from sweet, sour to velvety and savoury. To make it easier for you to choose your favourite vinegar for your salad vinaigrette, we've been careful to use no acidifiers in the production of the premium GEFRO Salad Seasoning.
TIP: this seasoning is also a great enrichment to fish dishes and herb cream cheeses.