BIO Würzmischung Vive la France
Please select size and quantity:
*Inclusive VAT, excluding delivery costs (for orders under €49.90). In stock, approx. 5 - 8 working days delivery time Shipping.

DE-087-121


Bon Appétit!
Mmmmm - ... even just the smell of this aromatic organic GEFRO seasoning mix is a delight! And then there's the great taste that dishes get when spiced up with this great blend! The best kitchen herbs such as parsley, oregano, savoury, rosemary and tarragon are combined with onions, garlic, turmeric and black pepper to create an incomparable, fine aroma with a savoury, yet fresh herbal note.
No question about it, the Vive la France organic spice blend is the seasoning of choice when it comes to French kitchen classics. But not only that!
The wonderfully warm, floral-sunny flavour is perfect with all meat dishes, grilled dishes, potato and vegetable dishes as well as pastry preparations with savoury or sweet toppings. Full of flavour and highly aromatic in the finest organic quality.
Ideal for: stews and braised dishes, quiche lorraine, tarte flambée, crêpes, marinades, dips and dressings. It gives fresh salads, such as Salade Niçoise, a beautiful Mediterranean note, belongs in every French fish soup par excellence, Bouillabaisse and of course in the highly popular, delicious vegetable dish Ratatouille.
Tip: our Organic Spice Blend Vive la France is great as a topping when simply sprinkled over the finished dish. Also ideal for cold snack platters with cheese, tomatoes, cucumbers, radishes and egg.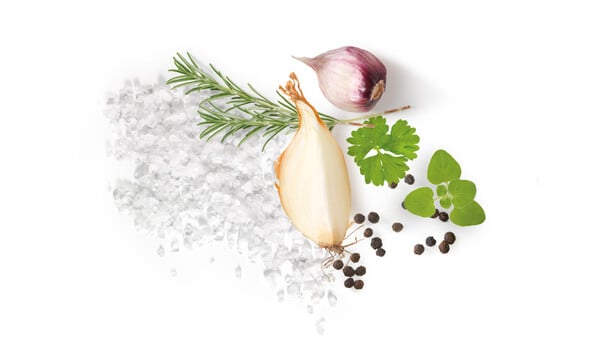 No colouring and
preservatives
Vive la France! Long live French food culture!
The mother of exquisite dining is undoubtedly France. They have top chefs aplenty, it is where "haute cuisine", the upscale French gastronomy was invented, which elevated cooking and dining to a true form of art, and from where wonderful recipes found their way into kitchens all over the world. But it is not only the upscale luxury cuisine that has made France and its food culture world-famous - rarely are even simple dishes prepared so deliciously and finely as in sunny France. The gourmet region of Alsace in particular is known not only for its upscale cuisine but also for its excellent, down-to-earth cooking. The hearty meals served in the rustic mountain inns of the Vosges, in so-called "Ferme Auberges" (farmhouse inns), are something you should experience at least once in your life. It is truly a splendour what is prepared here and served on large platters from the kitchen - with most of the produce originating from the farm itself and made into such simply fabulously good things as smoked pork chops, diverse sausage specialities with sauerkraut, or homemade pasta, to name but a few. The Roïgabrageldis, or Alsatian fried potatoes, which are fried in a pan with bacon, cheese, leek, onions and butter, or the Baeckaoffa, a wonderful meat and vegetable stew, are also delicious. And don't forget the fromage- the cheese that comes in a wide variety of flavours, from savoury to sweet.
Cuisine française - feast & enjoy the French way
Thanks to our French friends, we enjoy hearty classics with such melodious names as Boeuf Bourguignon, Coq au Vin, Pot-au-Feu or Cassoulet. Thanks to our GEFRO Organic Spice Blend Vive la France, it is effortless to add just that little bit more French finesse and flavour to these delicious stews and braised dishes. Be it chicken with red wine, coq au vin, beef with Burgundy wine as in boeuf bourguignon, stew with meat and vegetables, pot-au-feu or the south-western French bean stew, cassoulet, which can be prepared with goose, mutton or pork.
Quiche Lorraine, Alsace tarte flambée & crêpes ¬- So simple, yet stunningly good
Do you feel like something delicious from the oven? You want it to be simple, but also a taste sensation? Here you go! Both the shortcrust classic and the crispy thin tarte flambée, made from simple bread dough, are priceless additions in everyday kitchen life - hot or cold. Of course, when it comes to French pastry specialities, you can't do without delicious crêpes, which are quickly conjured up with simple pancake batter.
Whether you prepare your favourite dough with cheese, onions and bacon, try one of the numerous variations with vegetables or prefer a fine sweet preparation with apples, berries and sour cream - GEFRO Organic Spice Blend Vive la France rounds off every preparation in a particularly fine way and with a fresh, very special herbal-spicy aroma. So, get out that bowl, stir the dough for all it's worth, top with everything your sweet tooth desires, pop in the oven, finish baking, get out and enjoy!