Please select size and quantity:
*Inclusive VAT, excluding delivery costs (for orders under €49.90). In stock, approx. 5 - 8 working days delivery time Shipping.

DE-087-029
With ripe tomatoes
If you serve up a delicious tomato soup, made from juicy, sun-ripened tomatoes, you can reckon with happy faces at the table. Especially at lunch, when there's not much time for cooking, tomato soup is a popular, wholesome meal. GEFRO's flavoursome, aromatic Tomato Sauce and Soup, for a quick bowl full of fruity-light, tasty goodness.
The new and improved recipe, which uses gluten-free rice flour and high-fibre inulin instead of wholemeal wheat flour, turns every meal into a culinary gluten-free delight bursting with flavour. Order it now and try it yourself!
Preparation
As a soup:
add two tablespoons (approx. 30g) of powder to 1/2 litre of warm water, whisk, briefly boil and enjoy!
Your can refine the soup with milk, cream of fresh herbs, as desired.
To rarefy, thicken and season
add milk or water to existing sauce, stir in the corresponding amount of tomato sauce, whisk and briefly bring to the boil.
As a sauce:
add two tablespoons (approx. 30g) of tomato sauce to 1/4 litre warm water, whisk, briefly boil and enjoy!
TIP: Use milk instead of water. The more milk you use, the creamier the soup will be – and with only a few calories.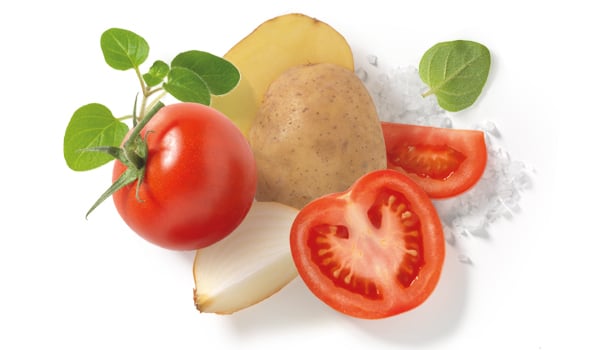 No colouring and
preservatives
Diverse fruit - Tomatoes
Botanically seen, tomatoes are actually berries, although they are often referred to as a vegetable. They belong to the genus solanum and are related to sweet pepper and aubergine, for example. The luscious red fruit is one of the most popular foods today and is available in an incredible array of varieties and flavours. From beefsteak tomatoes, wild tomatoes, vine tomatoes and mini tomatoes, such as cherry tomatoes, snack tomatoes or cocktail tomatoes, the selection just goes on and on. 2,500 different varieties are known worldwide. They vary in colour – from red, white, yellow, green to brown or even black.
The wonderful deep red colour of our GEFRO Tomato Soup makes mealtimes appealing to the eye too, even before you've enjoyed your first spoon.
Tomato Soup from GEFRO - healthy and delicious
GEFRO Tomato Sauce and Soup meets the nutritional requirements of a healthy and light diet at the highest level. With only 0.3 grams of vegetable fat per 100 ml, this vegan soup can also be used as a sauce – a welcome guest in any health and calorie-conscious kitchen.
In order to let the full, natural flavour of tomatoes perfectly unfold, no artificial or natural flavourings are used in the production of this versatile taste sensation.
The carbohydrates contained in GEFRO Tomato Sauce and Soup are an important source of energy and the high dietary fibre content will keep you feeling full longer.
Taste variations: the fruity, well-balanced falvour of this tomato sauce can be varied at will by adding onions for example, or oregano, thyme, chives, capers, cream etc.
GEFRO Tomato Sauce is perfect for: spaghetti, pasta, fish, minced meat, filled perppers, escalope Milanese, schnitzel, or vegetables. The soup can be refined by adding rice, pasta, Mediterranean ingredients such as sea food or capers, and much more.
Use this soup to make a sauce - simply reduce the amount of liquid used when preparing it and you've got yourself a delicious GEFRO Tomato Sauce.