Omega-3 Herbal Oils
GEFRO Omega-3 Aroma Oils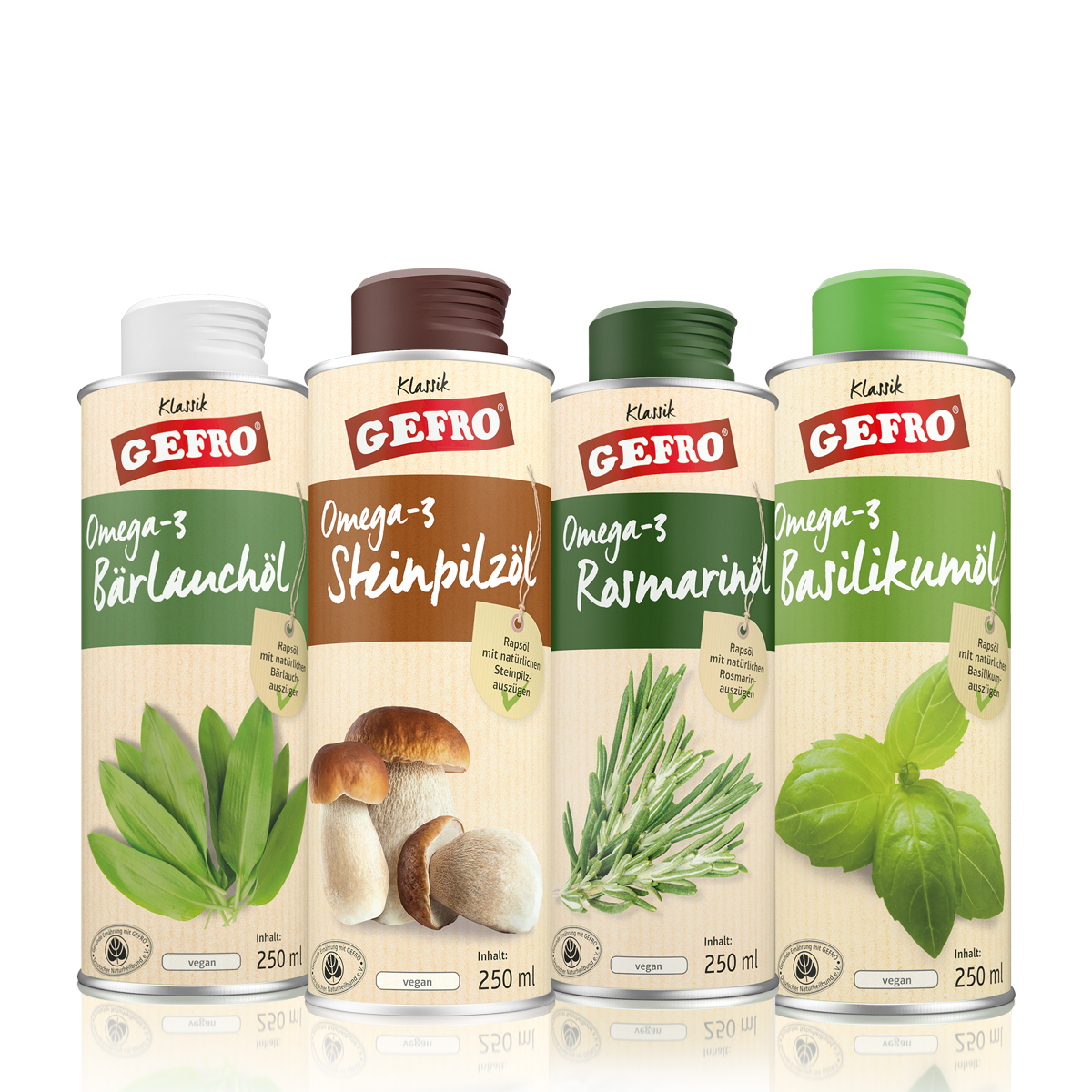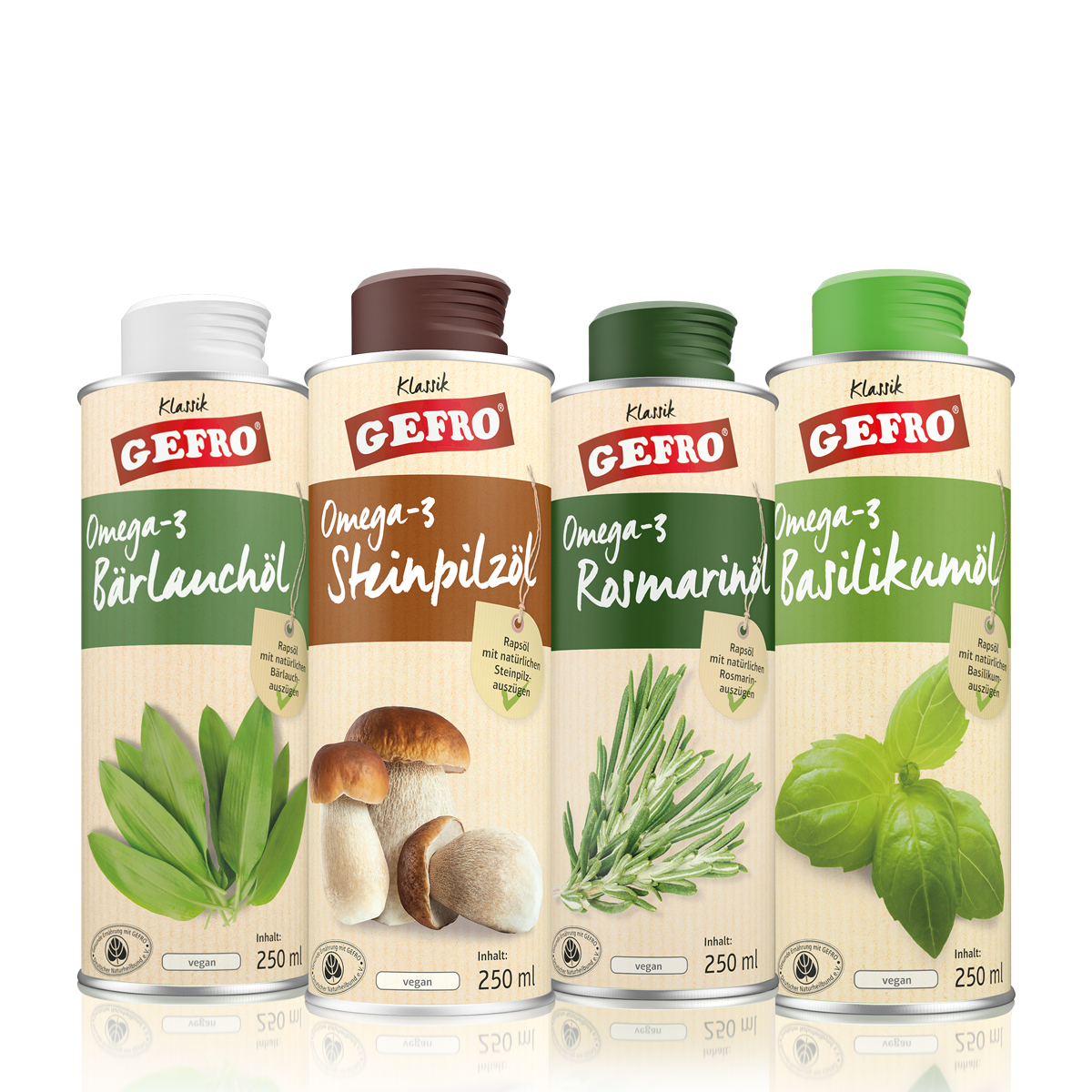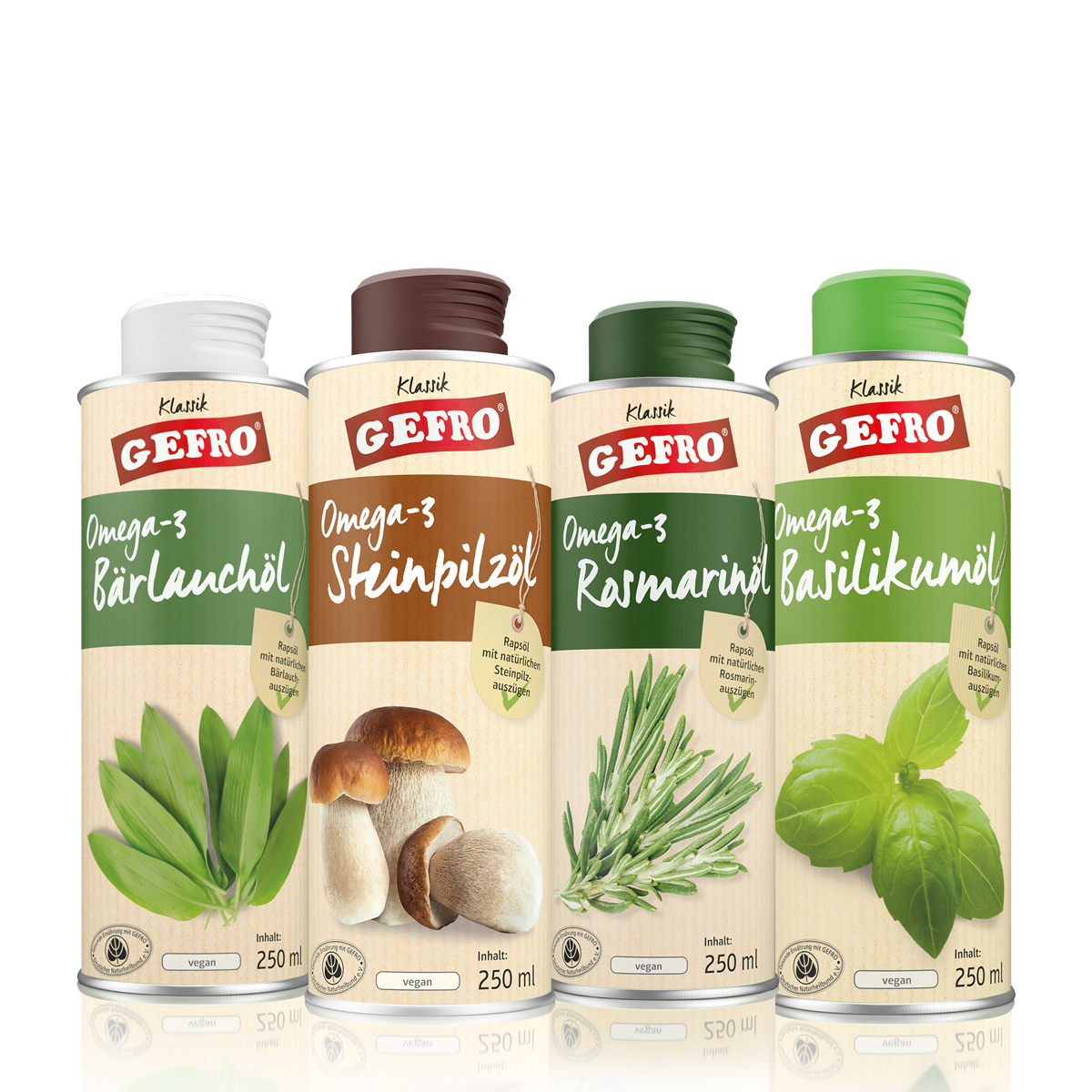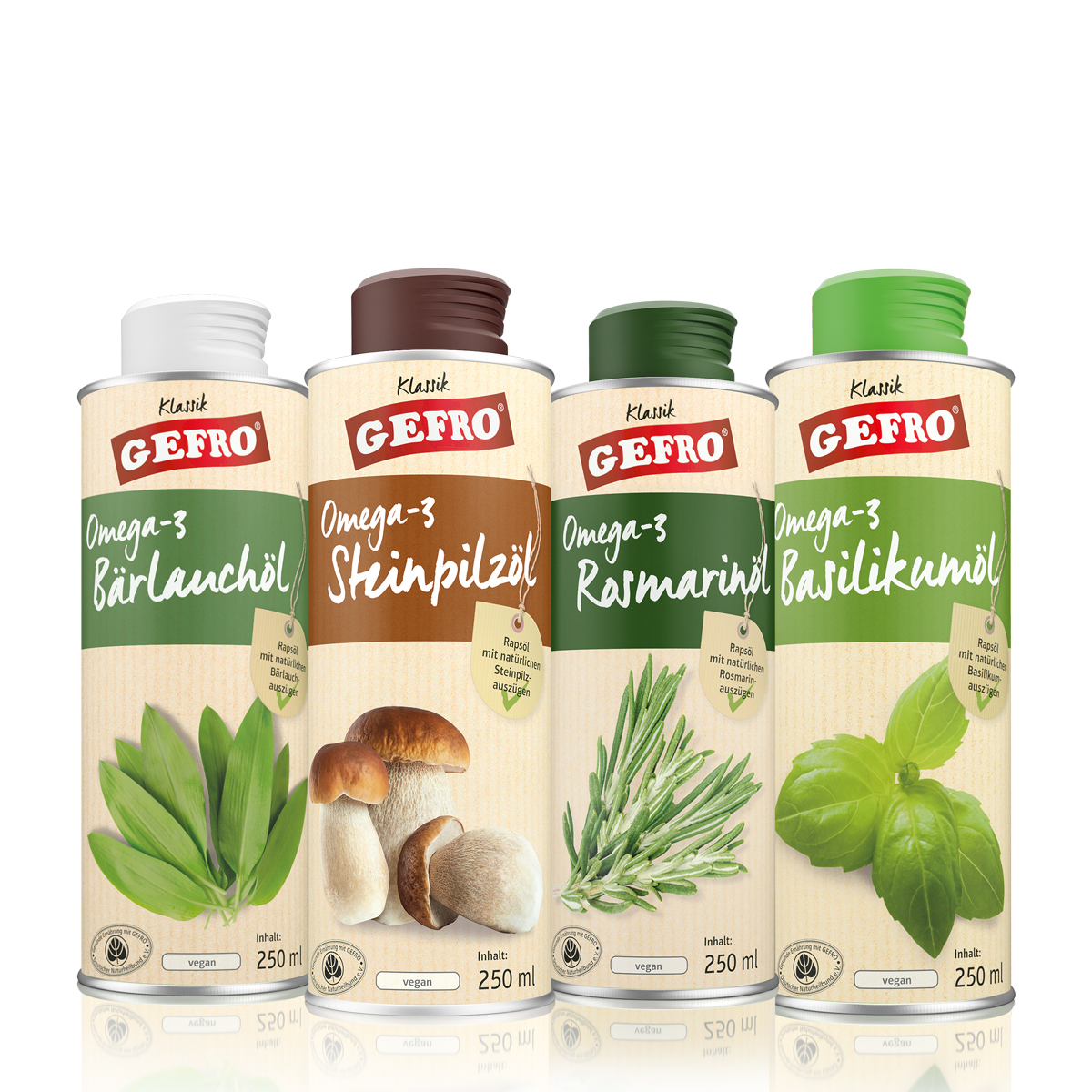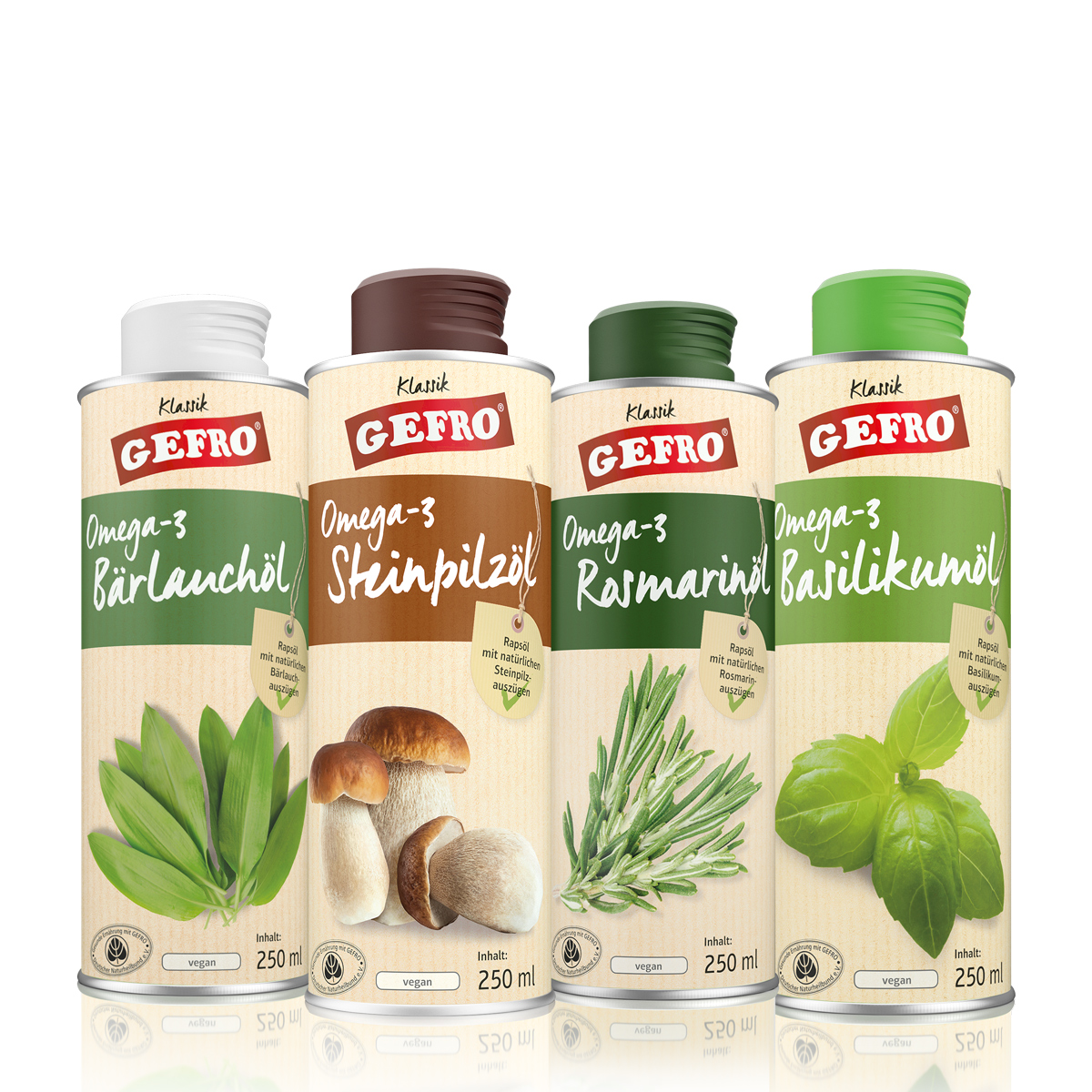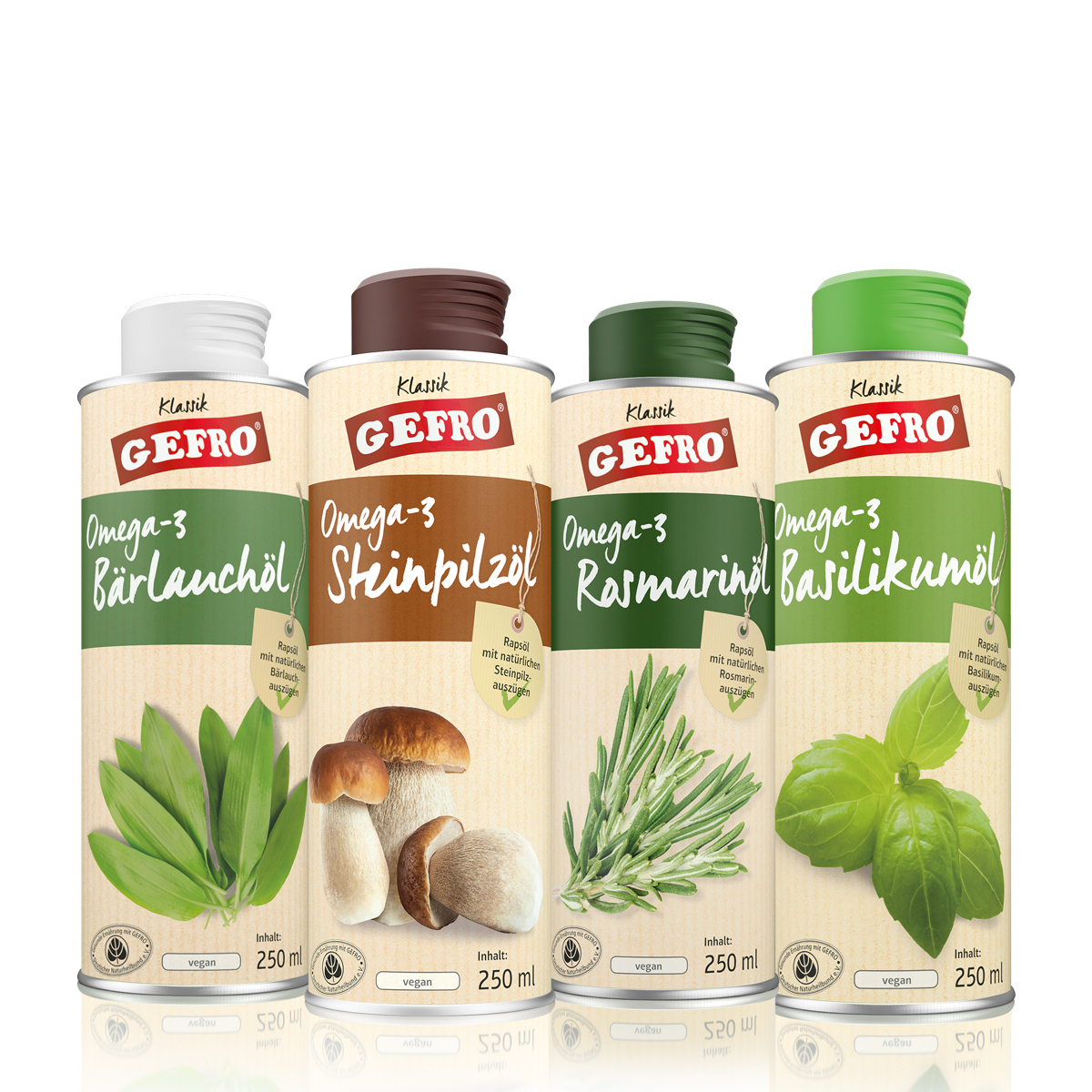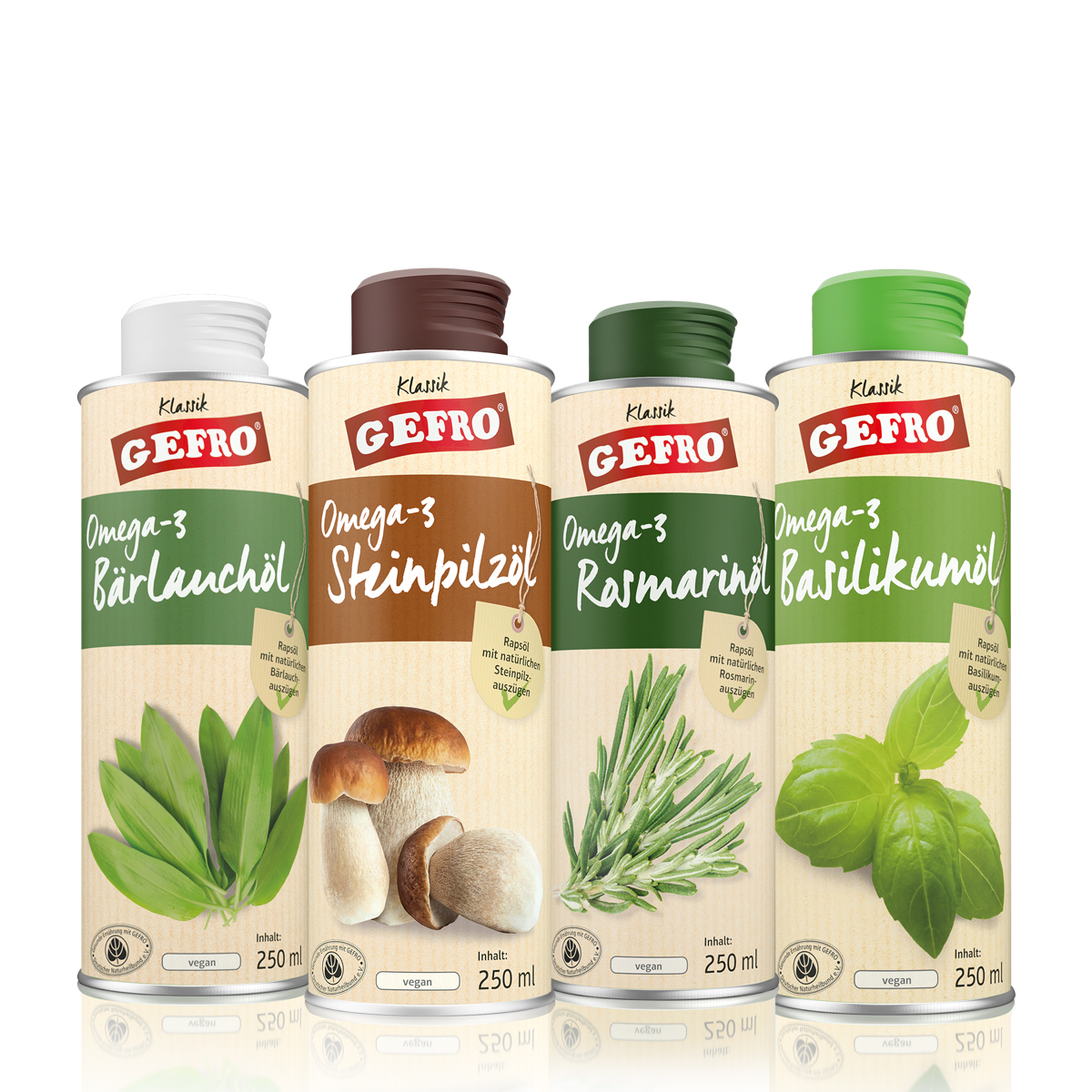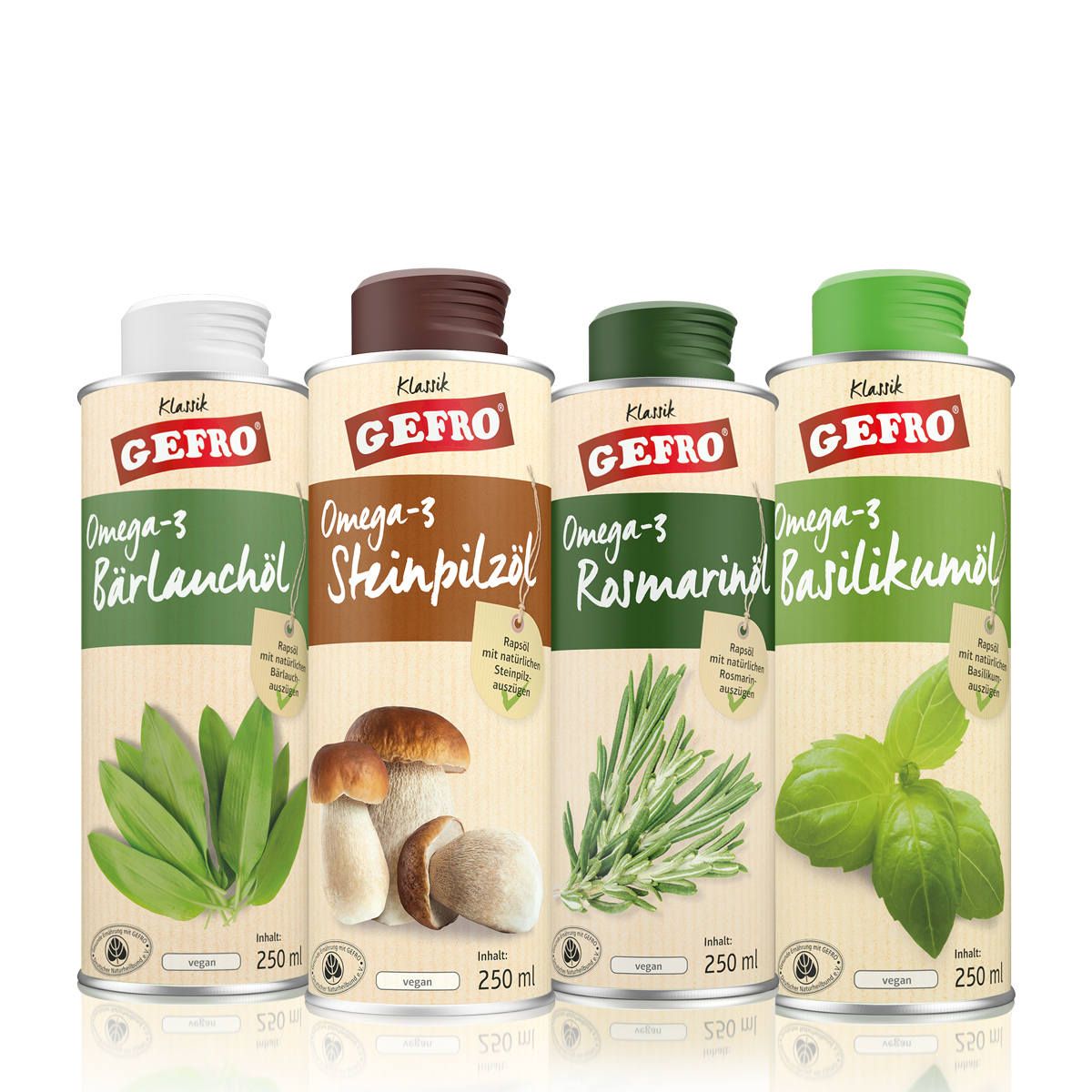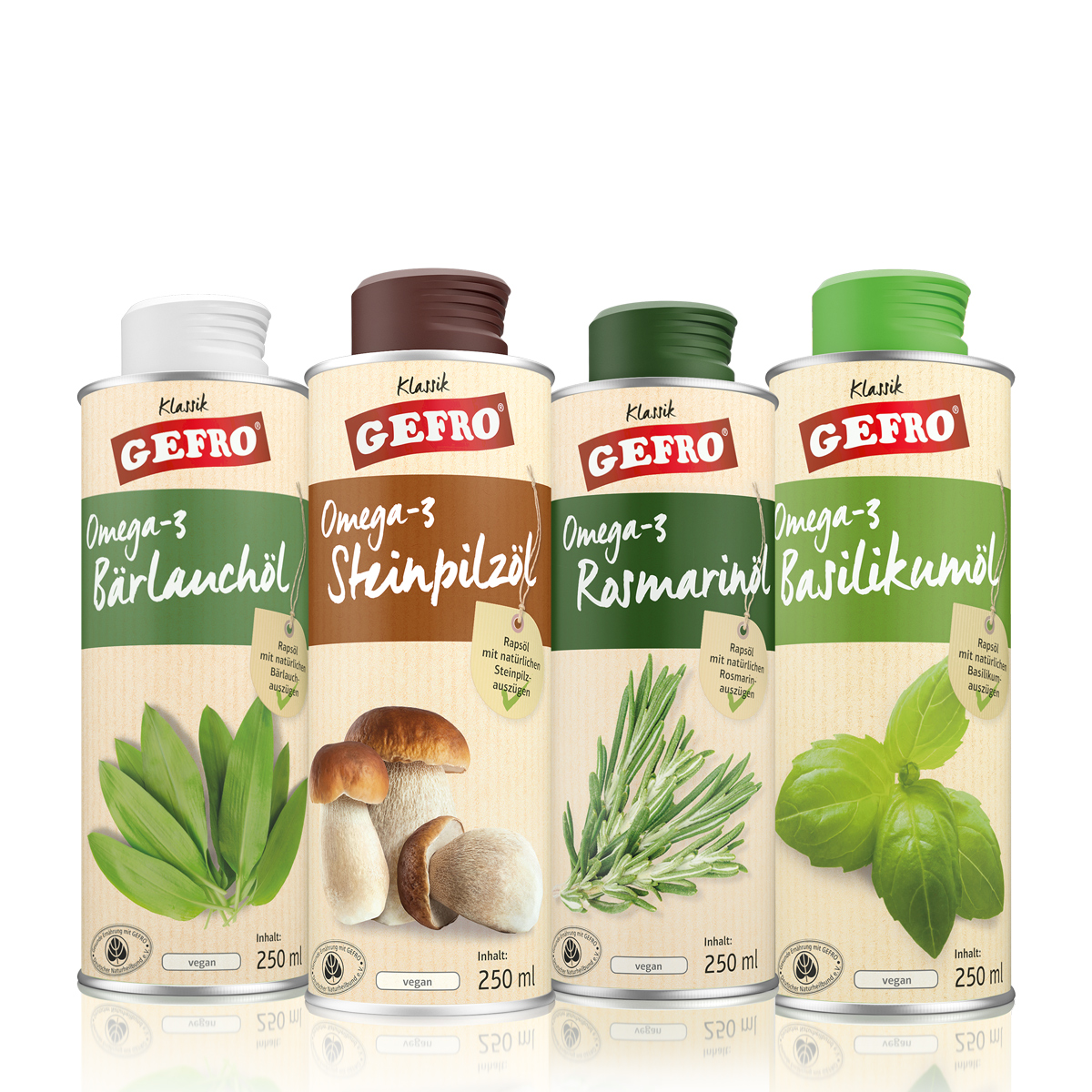 Please choose Quantity and Size
Our sophisticated rapeseed oils are enriched with natural herbal extracts and impress with their fresh, natural flavours and taste. The ideal accompaniment at wonderful barbecues or a great way to enliven daily meals with a little something special.
Only a few drops of our new Porcini Mushroom Oil are sufficient to give your meals a special kick. The subtle porcini mushroom aroma of this fine rapeseed oil is well-suited for enriching rice, pasta and potatoes dishes. Salads and desserts will also come to life with this exquisite porcini extract.
The basil oil impresses as a fine rapeseed oil with an invigorating aroma of fresh basil leaves. The oil is well-suited for adding flavour to salads, raw fruit and vegetables and pasta dishes as well as to antipasti or for marinating and seasoning meat, fish and vegetables. Dishes are given a natural, fresh basil flavour when it is added just before serving. It is the ideal addition to delicious herbal sauces and distinctive-tasting dips.

GEFRO Rosemary Oil is also an impressive rapeseed oil which goes wonderfully with salads and much more. The fresh aroma of rosemary leaves adds a kick to grilled meats, crisp vegetables and fish alike. Treat yourself and your guests to a splendid-tasting rosemary oil marinade and add a little Mediterranean flair to your home cooking! Both macerated oils each contain 7.9 g of omega-3 fatty acids per 100 ml.
Wild garlic is not only similar to garlic when it comes to flavour, it also has the same healthy properties that garlic is said to have. With one distinct advantage: the penetrant smell that comes after eating garlic is not as strong with wild garlic.

What are macerated oils exactly and how are they made? Macerated oils are oils enriched by adding certain parts of plants or herbs with their respective lipid-soluble active ingredients. They are not only used to add flavour to various dishes, but are also used in therapeutic treatment.

GEFRO Omega-3 Basil Oil, Rosemary Oil, Wild Garlic Oil and Porcini Mushroom Oil are all produced by way of maceration. To do this, basil leaves, rosemary leaves, wild garlic leaves or porcini mushrooms are infused in oil over a long period of time. The leaves or mushrooms remain in the oil until the oil has soaked up the flavours of the basil, rosemary, wild garlic or porcini mushroom.
What does basil oil, rosemary oil, wild garlic oil or porcini mushroom oil go well with ?
In essence pretty much everything that could need a touch of basil, rosemary, wild garlic or porcini mushrooms ! Both barbecue marinades and rice dishes can be given the final touches with the well-balanced, flavoursome taste of these oils. Salad dressings, dips, sauces and grilled as well as marinated vegetables are given a fine flavour that you'll always want to have. The basil oil is excellent for topping off the popular, classic appetiser 'tomatoes with mozzarella' as well pestos, whereas our rosemary oil goes perfectly with roast potatoes, poultry and various Mediterranean dishes. Wild garlic oil is great in salads and dips, and is suitable for marinating meat, or simply for giving soups and vegetable dishes that finishing touch. Your egg-dishes come to life with the fantastic porcini mushroom oil.
Get these versatile cooking oils for your home and let your creativity run wild when you refine, marinate and top off food.
(No additional discounts valid on the set offer)
Guaranteed quality
Vegan
Delicious, convenient, affordable
No genetic modification
Easy to digest
Nutrients&lipid distribution
Ø Nutritional values per 100 ml
| | | | | | | | |
| --- | --- | --- | --- | --- | --- | --- | --- |
| | Omega-3 Basil Oil | | Omega-3 Rosmary Oil | | Omega-3 Wild Garlic Oil | | Omega-3 Porcini Mushroom Oil |
| | | | | | | | |
| Energy | 3397 kJ/826 kcal | | 3397 kJ/826 kcal | | 3397 kJ/826 kcal | | 3393 kJ/825 kcal |
| Fat | 91,8 g | | 91,8 g | | 91,8 g | | 91,7 g |
| of which saturates | 6,9 g | | 6,9 g | | 6,9 g | | 6,8 g |
| of which mono-unsaturates | 57,2 g | | 57,2 g | | 57,2 g | | 59,0 g |
| of which polyunsaturates | 27,9 g | | 27,9 g | | 27,9 g | | 26,0 g |
| Carbohydrate | 0,0 g | | 0,0 g | | 0,0 g | | 0,0 g |
| of which sugars | 0,0 g | | 0,0 g | | 0,0 g | | 0,0 g |
| Fibre | 0,0 g | | 0,0 g | | 0,0 g | | 0,0 g |
| Protein | 0,0 g | | 0,0 g | | 0,0 g | | 0,0 g |
| Salt | 0,0 g | | 0,0 g | | 0,0 g | | 0,0 g |
Shelf-life: 15 months
Ingredients
Basil oil ingredients:
Rapeseed oil, natural basil extracts
Rosemary oil ingredients:
Rapeseed oil, natural rosemary extracts
Wild Garlic oil ingredients:
Rapeseed oil, natural wild garlic extracts
Porcini Mushroom oil ingredients:
Rapeseed oil, natural porcini mushroom extracts
Hotline
+49 8331 9595 555
You can reach us from:
Mo. - Fr.: 8.00 - 18.00
Sa.: 9.00 - 12.00