Please select size and quantity:
*Inclusive VAT, excluding delivery costs (for orders under €49.90). In stock, approx. 5 - 8 working days delivery time Shipping.

DE-087-030
Quickly made and simply delicious
An ideal choice for putting the final touches to gravies, rarefying and thickening sauces or whisking up a dark, hearty sauce of your own. In no time, you can create a tasty sauce with little fat and hardly any calories. GEFRO Dark Gravy perfectly suits steaks & Co. And you don't even need a jus to create a delectable dark gravy: a splash of red wine and a touch of garlic are all it takes to work wonders.
The new and improved recipe, which uses gluten free rice flour and high-fibre inulin instead of wholegrain wheat flour, turns every meal into a culinary gluten free delight bursting with even more taste.
Order it now and see for yourself!
Preparation
As a sauce:
add one heaped tablespoon (approx. 25 g) to 1/4 litre warm water, whisk, briefly boil and enjoy!
TIP: use milk instead of water. The more milk you use, the creamier the sauce will be – and with only a few calories.
To rarefy, thicken and season existing sauces, add milk or water, stir in the corresponding amount of GEFRO Dark Gravy, whisk and briefly bring to the boil.
Taste variations: with the vegetable-based GEFRO Dark Gravy, there is no limit to flavour. The existing meat juices are given full flavour. You can refine the sauce to your own taste and have it spicy or mild, with wine, cream, onions or mushrooms. There are no limits to your culinary skills and imagination!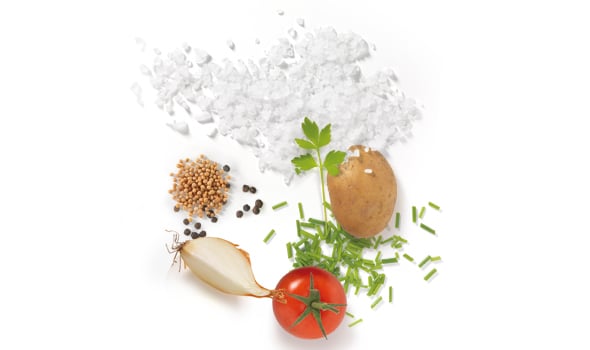 No colouring and
preservatives
Delicious Gray perfect the meal
A good sauce improves every meal and in belong in every pantry France is home to the well-known 'Au jus', which literally means 'juice'. This term of course refers to a gravy or a strong broth made from meat, poultry or game and refined with vegetables and herbs, such as carrots and thyme. Au jus often serves as a base for yummy sauce variations. Internationally known steak sauces, such as Bordelaise sauce or Chateaubriand sauce, are famous examples of delectable dark gravies that use veal stock as their base.
As an alternative to veal stock, poultry stock can also be used. If you don't have a home-made jus handy, you can just use GEFRO Dark Gravy to whip up a tasty, vegetable-based dark sauce of its own or to thicken or flavour and rarefy an existing sauce. A major advantage here is that the taste of the existing sauce is retained and not overpowered.
Delicious and health conscious- GEFRO's Gravy
With no animal fats or meat extracts, the savoury GEFRO Dark Gravy fits in nicely with the trend for healthy eating – with just 0.4 grams of fat per 100 millilitres of sauce and only 29 kcal per 10 grams of powder, it convinces everybody.
The good taste of GEFROs delicious Dark Gravy will turn any non-believer into a fan of sauces. With a variety of ways to creatively season this delicious gravy, either spicy or mild, with wine, cream, onions or mushrooms, this sauce is a real pleasure to make. GEFROs vegetarian gravy leaves you in control of the flavour. It simply brings out the best in broths and sauces. There are no limits to your culinary fanatsies.
Go ahead, try it out. Making a good gravy has never been so easy.
TIP: for thicker gravies, we recommend using milk instead of water to prepare the sauce. The result: a sauce with a velvety smooth consistency. Or just reduce the sauce (i.e. boil down the sauce) until you get a creamy consistency.