Spice Blend "Sweet Pepper & Chilli"


Please select size and quantity:
*Inclusive VAT, excluding delivery costs (for orders under €49.90). In stock, approx. 5 - 8 working days delivery time Shipping.

DE-087-032

Heat things up!
A mix of peppers, chillies, tomatoes and refined with fine pepper, carefully selected spices and a hint of garlic, this hot and spicy seasoning is not only the perfect complement to roasted or grilled meat, but also an excellent way to top off fish, poultry, side dishes and crisp vegetables. Whether it's used for seasoning, marinating or refining food, this piquant spice always makes a good impression. Due to its pleasantly spicy flavour, the seasoning is best suited to soups, stews, dips, salsas, pasta as well as rice dishes. Try it yourself and be swept away by the fiery hot flavour of sweet peppers & chili!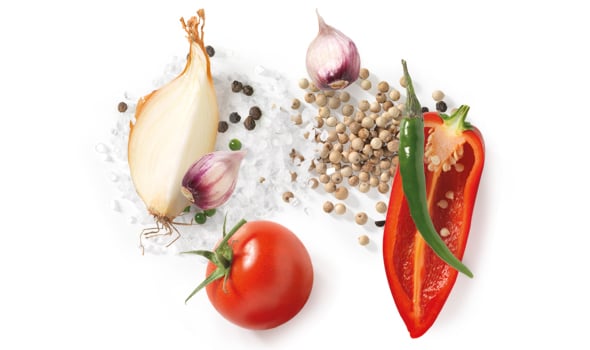 No colouring and
preservatives
Spicy-hot or sweetly mild
The genus Capsicum (sweet peppers) belongs to 'nightshade' family and is a plant with a wide diversity of species and varieties. These plants are also commonly referred to as chillies, pepperoncini or peppers. The sweet pepper originally comes from South America and is grown in the USA, Brazil and throughout Europe today. The vegetable especially has many different names and varieties, all varying in size, shape, colour and level of spiciness. Most peppers contain the chemical 'capsaicin' in different concentrations which influences the degree of pungency. Sweet peppers usually contain less capsaicin and are therefore rather mild. Chillies on the other hand contain high concentrations and are therefore a very hot variety of pepper.
Paprika is a finely ground powder that is available in different varieties: mild, sweet, semi-sweet and rose paprika. The powder's colour differs from orange, to light red to a striking bright red – and the same goes for all chilli powders. Depending on the type, the paprika powder can taste slightly sour, sweet or spicy. Sweet peppers (Capsicums) also vary in taste and smell. Depending on how ripe they are, either somewhat bitter, sweet and fruity or mildly pleasant. The chilli's level of spiciness ranges from pleasantly mild, piquant to fiery hot and somewhere in between. The pungency of the peppers is measured according to the Scoville scale, which ranges from 0 to 16,000,000 Scoville heat units (pure capsaicin).
TIP: small chilli peppers are hotter than larger ones.
Which dishes suit Sweet-Pepper & Chilli Spice Blend?
As a vegetable, sweet peppers are perfect for an assortment of dishes and as a spice they are a welcome addition to any pot, pan or grill. GEFROs Sweet Pepper & Chili Spice Blend seasons meat, fish, poultry, veal, lamb as well as basically any side dish, from potatoes, rice, noodles to salads and vegetables. Even sweet food can be rounded off and enhanced with a touch of spicy chilli or mild to slightly piquant paprika.
A diverse range of aromas unite and complement each other in GEFROs premium Sweet Pepper & Chili Spice Blend and ensure a piquant, stimulating and intense taste experience – all without making the dish too spicy. Tomatoes, peppers and onions provide a Mediterranean aroma and are perfectly enhanced by different kinds of pepper (black pepper, white pepper, green pepper). Garlic, chillies and carefully selected spices are added into the mix, resulting in a new distinctive and versatile spice.
Turn your next barbecue with friends and family into something special and enchant them with GEFRO 'Paprika Chilli' Seasoning. Have fun marinating, seasoning and enhancing your meals. Bon appétit!