Please select size and quantity:
*Inclusive VAT, excluding delivery costs (for orders under €49.90). In stock, approx. 5 - 8 working days delivery time Shipping.

DE-087-004


With a full-bodied, fruity aroma
Thanks to a carefully selected blend of spices mixed with the fruity flavour of sun-ripened tomatoes, our GEFRO ORGANIC Tomato Sauce and Soup has a pure, authentic flavour. The ingredients used to produce the delicious GEFRO ORGANIC Tomato Sauce and Soup are sourced from organic farming.
TIP: use GEFRO ORGANIC Tomato Sauce and Soup to rarefy, thicken or season existing sauces. Seasoned with fresh herbs, this product is simply divine in rice dishes, goulash, minced meat or pasta dishes!
Preparation
As a tomato soup:
add two tablespoons (approx. 35 g) to 1/2 litre warm water, whisk and briefly boil!
As a tomato sauce:
add 1 heaped tablespoon (approx. 25 g) to 1/4 litre warm water and whisk.
Briefly bring to the boil and enjoy the gourmet sauce.
TIP: use milk instead of water for a creamier sauce, and with only a few calories too.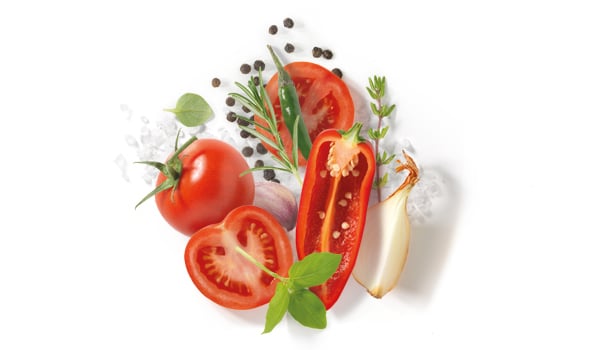 No colouring and
preservatives
Fruity-fresh flavour
The vegan GEFRO ORGANIC Tomato Sauce/Soup uses only ingredients from controlled organic farming. The fresh and fruity taste of ripe tomatoes, topped off with Mediterranean herbs such as thyme and basil, make this tomato soup, which can also be prepared as a separate sauce, a true highlight for your taste buds.
With only 29/20 kcal pro 100 ml sauce/soup, GEFRO ORGANIC Tomato Sauce/Soup goes above and beyond the expectations of a modern, health-conscious lifestyle.
The zesty tomato sauce goes well with spaghetti, other kinds of pasta, rice, minced meat dishes, fish, stuffed peppers, vegetables, Milanese schnitzel, turkey escalope and veal escalope.
A traditional tomato soup bursting with flavour which takes little effort to make.
GEFRO ORGANIC – finest quality for the highest demands
In the light of current issues regarding resource conservation, intergenerational justice and sustainable production of food, it is becoming increasingly important to use resources and energy more consciously.
Living up to these changing demands in the area of food production logically means increasingly switching over to organic farming and the consumption of the resulting products thereof.
With our self-developed range of ORGANIC products, we gladly rise to these new challenges with conviction. It goes without saying that an environmentally friendly and animal friendly approach is a matter of course for us.
Organic by conviction
All ingredients used in our ORGANIC products come from organic farms. This means that in addition to producing organic grains, vegetables, etc., organic farmers also grow feed for their animals to consume and use their manure to fertilise their crops. They completely abstain from using synthetic pesticides and genetic modification. Animal welfare and environmentally friendly processes are also promoted in addition to organic farming.
All GEFRO ORGANIC products are inspected and certified, in accordance with EU Organic Regulations. DE-ÖKO-003. EU/non-EU Agriculture.