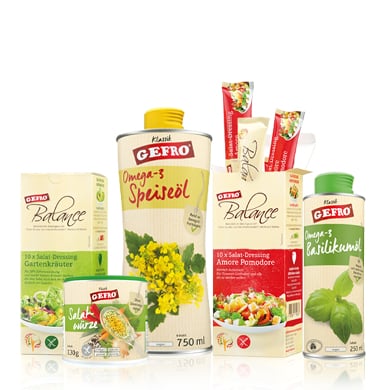 19.70€*
Inclusive VAT, excluding delivery costs
Bitte Größe und Menge auswählen:
*Inclusive VAT, excluding delivery costs (for orders under €69.00). In stock, approx. 5 - 8 working days delivery time Shipping.
The base of a fine vinaigrette
Discover the delicious secrets of great salad sauces and experience which ingredients make the best basis for fine vinaigrettes. Simply order our salad set and enjoy, all at a fantastic price!
You will receive:
130 g Salad Seasoning
10 portions of Balance Salad Dressing "GARDEN HERBS"
10 portions of Balance Salad Dressing "AMORE POMODORE"
250 ml Omega-3 Basil Oil
750 ml Omega-3 Cooking Oil
for the special price of only €19.70 instead of €23.30. You saving over 15 %.
Order now, save and enjoy!
Please note: no additional discount possible on already reduced set prices.
No colouring and
preservatives