Meat-free Bolognese Sauce
Meat-free Bolognese Sauce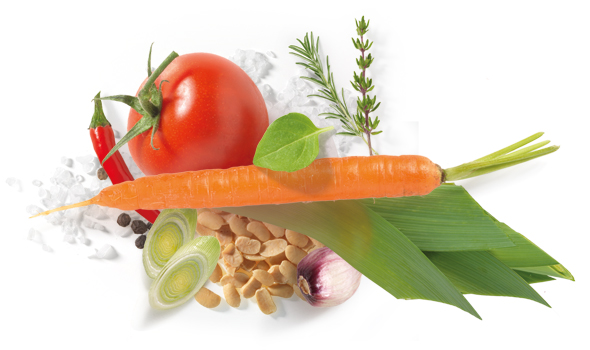 Please choose Quantity and Size
In Bologna, Italy, Bolognese sauce is traditionally served with tagliatelle or green lasagne. Called 'sugo al ragu' by the Italians, we know this sauce to be the classical pasta sauce served with spaghetti and other pasta. With our vegan bolognese sauce, we succeeded in creating a tasty sauce sensation: instead of using meat, we use soya granules. But you won't taste the difference!
There are no limits to your culinary skills and imagination! Try it yourself – you're going to love it!
The discovery that when crushed soya beans (i.e. soya granules) are soaked, they can be used just like minced meat, hasn't just opened up a world of tasty treats for vegetarians or vegans only.
With its remarkably delicious taste and its nutritional benefits, the vegetable-based, protein-rich meat substitute also convinces and conquers everyone who likes to eat meat every now and then too.
In order to produce our vegan sauce we followed the trend of using soya granules – the result of which is a truly amazing tasting sauce! With GEFROs Sauce Bolognese, a traditional tomato meat sauce can be made using just plant-based products and absolutely no meat – but, of course, with the rich and hearty flavour of a conventional minced meat sauce.
You'll never want to prepare traditional 'spaghetti bolognese' using another sauce than with the vegan, soya-based GEFRO Sauce Bolognese. This extremely good sauce is ready to serve with little work but lots of taste: add 4 tablespoons of powder to 1/4 litre of water, whisk, bring to a boil and let it simmer approx. two to three minutes – and you're done!
GEFRO Sauce Bolognese is also perfect for making lasagne, cannelloni and Italian-style casseroles. The delightful sauce also adds flavour to rice and potato dishes. Mediterranean herbs, mushrooms, cheese and vegetables bring out the sauce's flavour even more. Enrich the sauce with some wine, GEFRO Extra Virgin Olive Oil or GEFRO Organic Spice Blend 'Bella Italia'.

Soya – the "meat" of vegetarian/vegan cooking.
Soya beans, which contain lots of oil and are rich in protein, originally come from North China, Japan and Korea. Throughout the centuries this protein-rich legume gained in popularity in Europe, especially however, in the past few decades. The protein-rich food has especially caught on in vegetarian and vegan cuisine. Cheese-like tofu made from soybean curd, versatile bean sprouts, condiment pastes such as miso or even commonly known soya sauce have long been an integral part of vegetarian cooking.
TIP: for genuine Italian indulgence, mix the delicious bolognese sauce with the hot pasta before serving.
Guaranteed quality
Vegan
Gluten free
Lactose free
Without hydrogenated fats
No flavour-enhancing additives
No colouring and preservatives
No added flavours
With soy granules (no GMOs)
Easy to digest
Delicious, convenient, affordable
Preparation
Add 4 heaped tablespoons (approx. 50 g) to a 1/4 litre cold water, whisk, briefly boil, simmer for 2 to 3 minutes and enjoy!

Nutritional values
Ø Nutritional value per 100 ml sauce
= 20 g powder
| | |
| --- | --- |
| Energy | 303 kJ / 72 kcal |
| Fat | 1.4 g |
| of which saturates | 0.7 g |
| of which mono-unsaturates | 0.5 g |
| of which polyunsaturates | 0.2 g |
| Carbohydtrate | 9.6 g |
| of which sugars | 5.6 g |
| Fibre | 2.1 g |
| Protein | 4.0 g |
| Salt | 1.71 g |
Ingredients
21% tomato powder, 21% granulated soya, vegetables (carrots, onions, sweet peppers, courgettes, leek powder), sugar, palm oil*, seasoning (contains soya), rice flour, sea salt, corn starch, herbs (marjoram, oregano, thyme, rosemary, sage), spices (garlic, chili, pepper, beetroot), caramel sugar, thickener: guar gum, maltodextrin, yeast extract, acidifier: citric acid.
* GEFRO requests guarantee from its suppliers that the supplied palm oil originates from sustainable agriculture. Corresponding certificates must be submitted.
Allergenic substances: soya & soya products

Hotline
+49 8331 9595 555
You can reach us from:
Mo. - Fr.: 8.00 - 18.00
Sa.: 9.00 - 12.00