Please select size and quantity:
*Inclusive VAT, excluding delivery costs (for orders under €49.90). In stock, approx. 5 - 8 working days delivery time Shipping.

DE-187-118

Spicy blend for chicken, duck, goose & Co.
GEFRO's Chicken Spice Mix delivers an abundance of flavour to all your favourite poultry dishes: onions, garlic and fine kitchen herbs such as parsley, marjoram, rosemary and thyme give light meat such as poultry a fresh, herbal-spicy touch.
A strong, hearty flavour is achieved in all poultry recipes, thanks to this mix's black pepper, savoury and spicy cumin. It's simply delicious – we promise! The well-balanced, savoury, aromatic Chicken Spice Mix peps up crispy roast chicken just as well as tender turkey or flavoursome duck or goose meat. Fried or roasted, whole, breast, wings or chicken nuggets – GEFRO's Chicken Spice Mix gives your meal that extra special touch and is always delicious!
Tip: the secret to golden, crunchy chicken skin is salt water, or better yet – honey, diluted with either water or meat juices. Simply brush some mixture onto the skin a few times shortly before the chicken is finished. Ideal for the honey mix: GEFRO Forest and Blossom Honey.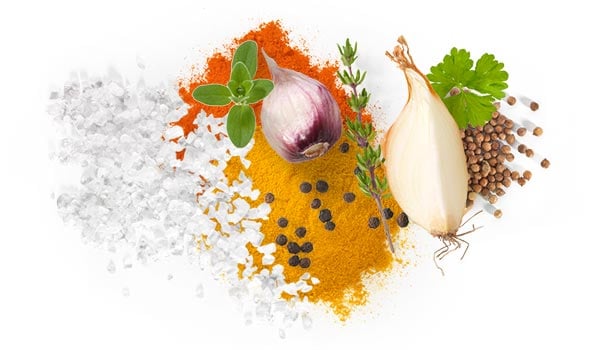 No colouring and
preservatives
Tender poultry – one of the most popular meats with maximum flavour satisfaction
Poultry is a very popular meat across the globe, be it chicken, turkey, quail, duck, guineafowl or goose. Whether roast, fried or grilled, once on the table, it's hard to resist. Crispy, roast, baked or grilled chicken is especially loved, with roast chicken a firm favourite in many countries. Not many can resist that golden, crispy roast chicken, tender meat and delicious filling. Coq au vin, is also highly popular, a delicious French dish, prepared with red wine.
Sooo tasty – from sweet & sour chicken to salad with turkey strips
When it comes to poultry, the possibilities are endless- this delicious meat can be prepared in so many ways. Whether prepared in a sweet and sour sauce or a savoury marinade and served with rice or noodles; whether in wok dishes, ragouts, stews, soups, salads; whether steamed, fried, roasted – poultry is so diverse that it's easy for everyone to find their favourite.
Chicken broth has long been valued for its purported benefits. Our vegetable bouillon is perfect as the base for a delicious chicken soup.
No matter what culinary delight you want to prepare with poultry, GEFRO Chicken Spice Mix always gives your poultry dish that extra special note, finely rounded off with fine, aromatic herbs.
Chicken, turkey, goose and Co. - a healthy treat
Poultry contains high-quality protein and valuable nutrients such as iron, niacin and potassium, as well as important B vitamins. Lean, tender turkey and chicken meat contain very little fat, which has, besides its great flavour, lead to its massive popularity.
Goose and duck meat are also tender, but have a darker colour and more intense flavour and also contain more fat than turkey and chicken. Plenty of reason to add some more poultry to your diet.
Tasty all year round – finely seasoned with GEFRO's Chicken Spice Mix
Few foods are so embedded in traditions and feasts than poultry. Chicken wings are a must at summer parties, crunchy and delicious fresh off the barbeque. Turkey reminds us of American thanksgiving and Christmas, impressively taking centre place on the table, surrounded by countless vegetables and side dishes.
Tip: slicing poultry is a breeze with GEFRO's Carving Knife.