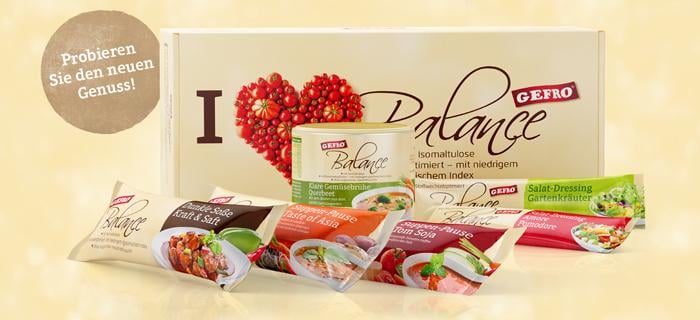 Test GEFRO Balance
Get the GEFRO Balance Sample Pack with six delicious products for an introductory price of only € 5.00 and enjoy a new body sensation.
Since the sample pack is offered at an extremely low promotional price, it is only possible to have one sample pack per household.
Rich on fibre
Take advantage of our GEFRO Balance introductory offer and fall in love with a new, light feeling, greater concentration and more energy. Ideal for all of those who want to stay naturally in balance: at home, on-the-go, at school, college or at work.
Sensible eating can be so simple and delicious.
The pack contains:
♥ 115 g Kitchen Garden Vegetable Bouillon
♥ 1 portion of Taste of Asia Soup-er Snack
♥ 1 portion of Totally Tomato Soup-er Snack
♥ 25 g sachet of Delightfully Dark Sauce
♥ 1 portion Amore Pomodore Salad Dressing
♥ 1 portion of Garden Herbs Salad Dressing