Culinary diversity
and excellent taste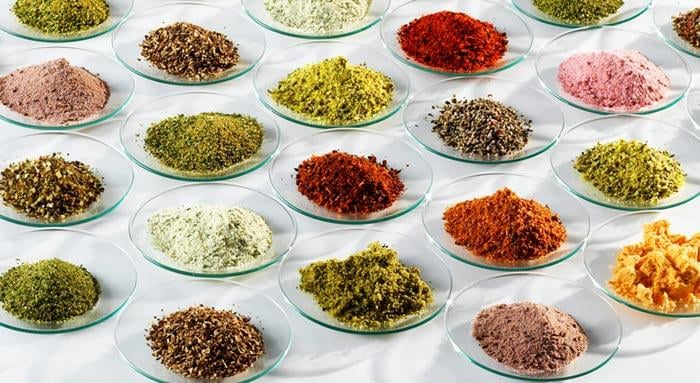 INNOVATIVE. CREATIVE. SUCCESSFUL.
In the course of our almost 100 year-long company history we at GEFRO SELECT FOOD have acquired an extensive know how in the field of dry blended products. Selected ingredients, constant controls and the accurate work of each of our staff are the secret for our success and our outstanding product quality.
No matter which project we shall be realising together – success never tasted better !
Adaptation of existing recipes
Existing recipes
Clear
Broths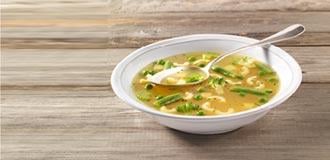 Varieties like veal or poultry broth, as well as the vegetarian vegetable broth are extremely popular. Recipes with differentiated flavouring profiles like herbs, tomato, or garlic can be developed any time.
Soups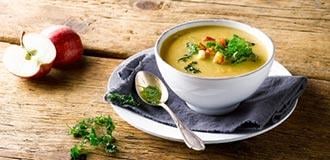 In addition to the classic choices like tomato or potato soup, our assortment does also comprise some more exotic dishes, like beetroot soup, Asian vegetable soup or Gazpacho, for example.
Sauces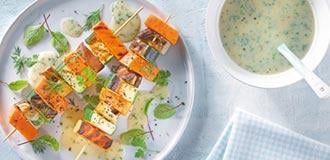 A wide range from dark gravy to Sauce Hollandaise and even various pestos.
Seasonings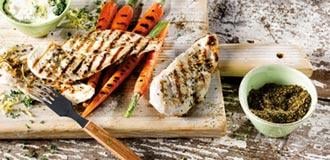 Herb seasonings, meat seasonings, sweet pepper & chili spice blend and much more to round off the perfect flavour of your favourite dish.
Dressings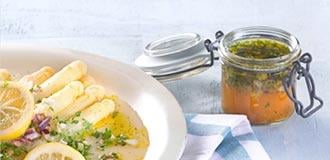 Elaborated herb seasonings for salads and instant dressings that should never miss on any salad. Available in many variations.
GEFRO Range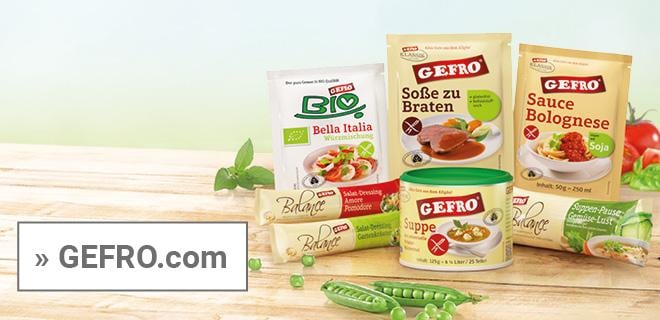 Would you like to get acquainted with or inspired by the GEFRO product range? » gefro.de
In your
language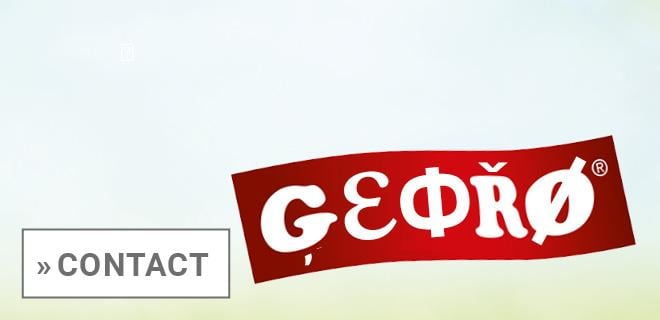 You would like to market GEFRO in your own native language? We are happy to assist you with your questions... » Contact
Adaptation of existing recipes
It is possible to adapt any of the products and recipes within the successful GEFRO range just accordingly to your individual demand. For example
to cultural/country-specific taste preferences
to your own special product directives
to religious norms
to special food laws.
New and special developments
We develop your own product according to your specification. We respond flexibly and quickly to your individual requests. Our modern manufacturing machinery enables us to produce and fill even smaller lot sizes. » Product Development
Recipe characteristics
Product Directives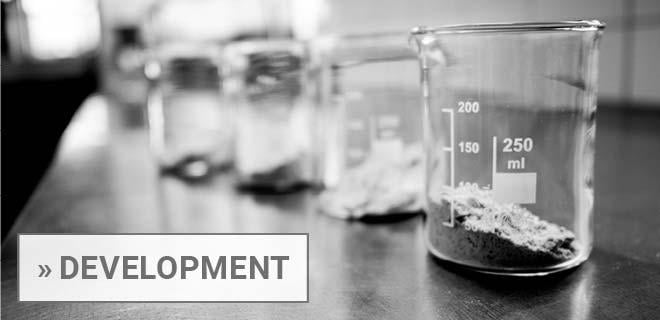 Whether your products should be manufactured as conventional, organic, vegetarian, vegan or free from specific ingredients, with GEFRO SELECT FOOD you have the right partner at your side. » Development
Functional Food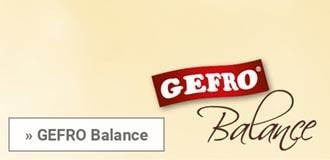 Equip your products with an additional, health-promoting benefit. GEFRO SELECT FOOD is on the cutting edge in the fields of Best Carb and metabolically optimised food. » GEFRO Balance
Trend Food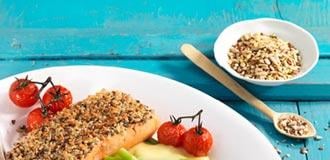 Superfood, Health Food oder Low Carb … Always up to date: We take the latest trends from the food industry right into your product range.
Ethno food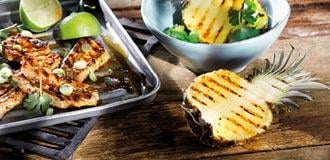 Whether it's about your favourite dishes from home or exotic flavours from far away. GEFRO SELECT FOOD captures for you the World's most wonderful delights and makes them available to your customers.